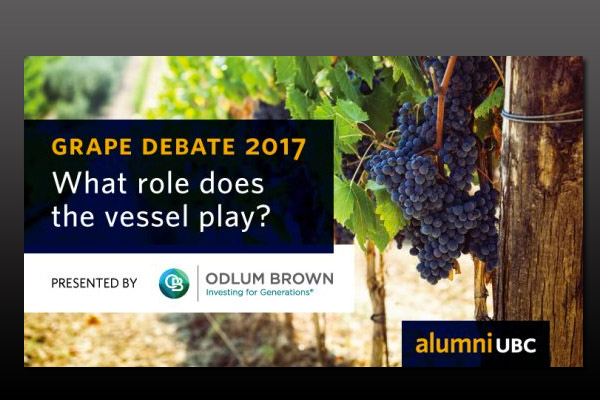 Lots of buzz out there these days on what is the preferred vessel to be used for producing wine. Stainless steel and oak continue to lead the way but lots of support is growing for amphora (clay/terracotta), concrete both in vats and egg-shaped, glass, fibreglass, or plastic carboys – well maybe not plastic! The 5th Grape Debate (an educational joint project of @alumniUBC, @dineoutvanfest & @winebcdotcom) was held last week with a lively discussion on the pros and cons of all vessel types. Check back to the UBC site later on for the video presentation of it. Your scribe participated again for the fifth time on the side in support of the more traditional stainless steel and oak being introduced this year with the appropriate music playing of Tony Orlando's Tie a Yellow Ribbon 'round the Ole Oak Tree!
My opening thoughts were that as a wine consumer like most of the audience I didn't really care what vessel was used. I compared it to the popcorn that was served on arrival at the event. We aren't analyzing whether it was air popped or micro-waved aided by more or less butter, or olive oil, caramel or sea salt. The question is "How does it taste"? Stated that I was really from Missouri and you had to show me what worked best. My own experience has been that the wine treasures I have enjoyed from around the world usually have some wood used to provide complexity, improved stability of colour and clarity with benefit of wood tannins, and smoother deeper textures and improved aromatics from controlled slow oxygen infusion. Also provides a lot of subtle seasoning elements from vanilla, coconut, cinnamon, clove, nutmeg, caramel and the like. Of course the age of the barrels, their size, their level of toasting and the type of oak are all important. Recalled how Lucien Lemoine using very fine oak with slow toasting from Jupilles forest for all his Burgundies but adapted each year by ordering late to suit the vintage's cru specific flavour definitions from the grapes. Also in Chablis with lower Ph and higher acidity levels similar to the stats in the BC northern Okanagan extra dimensions can be obtained for the wines from being in used oak with 2012 Christian Moreau Le Clos & Vaillons Cuvee Guy Moreau good examples of this. Poured for tasting in support of my argument the 2013 The Waltz pinot noir Naramata Bench from Foxtrot Vineyards (www.foxtrotwine.com) as an example of a wine that was improved by 20 months in Francois Freres oak (50% new, 50% second & third use) with malolactic fermentation in cask. Wouldn't be the same made in concrete or clay!
Lots of good arguments raised on the other side. Stainless steel is inert and can be reductive We argued that concrete is not flexible and can be attacked by the high acidities of the fermenting musts plus are very difficult vessels to keep clean. Terracotta eggs have attracted the interest of Michel Chapoutier and even Screaming Eagle & Harlan. The stable temperature without the need for refrigeration is helpful in the cellar and some wines result in a better mouthfeel. Told the story of my visit last year to Frank Cornellisen on Mt. Etna with his unique terracotta in ground volcanic rock for Magma from Nerello Mascalese that results in an excellent earthy elegant red. Final opinions were divided with most people feeling oak suited cabernet well while gamay prefers a clean fresh vessel. Maybe they do have a better use than just for large clay flower pots.
Have your tried wines made in stainless steel, oak, clay, concrete…? Do you have a preference?
---
You might also like:

Loading ...