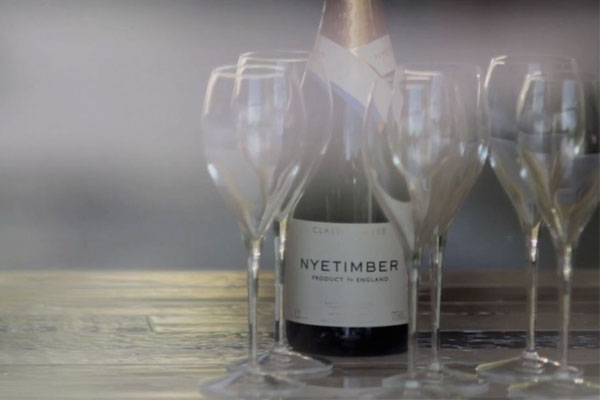 Image: nyetimber.com
By Joseph Temple
Just an hour's drive south of London, along a ring of chalk and limestone, it's safe to say that the future is indeed looking very bubbly. After beating the Champenois at their own game in numerous international competitions (while reaping a whirlwind of publicity), English fizz has risen like a phoenix. In fact, across the counties of Kent, West Sussex, East Sussex, and Hampshire, nearly two thirds of all bottles produced today are sparkling. And experts predict that approximately six million bottles of British bubbly will be available for purchase by 2023. From a very niche product to one that is currently exported to a record 27 countries, some have even opined that English sparkling wine, arguably on par with the best Champagne houses in France, is greatly undervalued – especially given its geographical constraints.
Of course, for those of us who live on the other side of the pond and think the term 'English wine' is an oxymoron, it probably seems surreal that there are now over 500 commercial vineyards operating on British soil. Not only that, but these vineyards are giving the French a run for their money with their award-winning bubbles.
Simply put: How did this all happen?
In trying to identify a key turning point in the two thousand year history of English wine, one needs only to travel back to 1988. The same year that Margaret Thatcher became the longest serving British prime minister of the twentieth century also turned out to be the year that the first vines of Pinot Noir, Chardonnay, and Pinot Meunier were planted on a property recorded in the Domesday Book and once owned by Anne of Cleves, the fourth wife of Henry VIII. Ironically, it wasn't even an Englishman who planted them.
Noticing that the 438 acres that surrounded the 11th-century Nyetimber Manor shared an almost identical climate and geology with the region of Champagne, Sandy and Stuart Moss of Chicago decided to bring in French experts to assess the region's potential. Realizing that the greensand soil was near perfect for sparkling wine, the American couple moved full steam ahead with their trailblazing vision. According to Oz Clarke, "Everybody told them they should plant apples—bureaucrats always say that; we'd have no Marlborough Sauvignon from New Zealand, no Oregon Pinot Noir, if the true believers believed them."
Living up to its potential—and then some—Nyetimber's 1992 Premiere Cuvee Blanc de Blanc, its very first vintage, ended up winning an international gold medal in 1996. But the estate proved it was no fluke when two years later, its Classic Cuvee 1993 won the trophy for best sparkling wine in the world. Given all the accolades, it was no surprise that Queen Elizabeth II chose Nyetimber for her fiftieth wedding anniversary, helping to solidify their brand as England's most recognizable sparkling wine.
Fast forward to today and the vines that were first planted nearly three decades ago have grown to become a multi-billion dollar enterprise as hundreds of other vintners (including some French wineries) decided to follow in the footsteps of the Mosses. While Nyetimber's Blanc de Blanc is described by one writer as "light and lithe with fabulous length," the Classic is "breadier with bright acidity and a crisp clarity and pure zesty orange fruit to it." So if you ever get a chance, try a glass of the wine that has redefined the world of bubbly!
Sources:
Clarke, Oz. The History of Wine in 100 Bottles: From Bacchus to Bordeaux and Beyond. London: Pavilion Books, 2015.
Harvey, David. Grape Britain: A Tour of Britains Vineyards. Castle Douglas: Neil Wilson Publishing, 2011.
Time Out. Time Out Kent & Sussex. London: Time Out Guides, 2011.
---
You might also like:

Loading ...