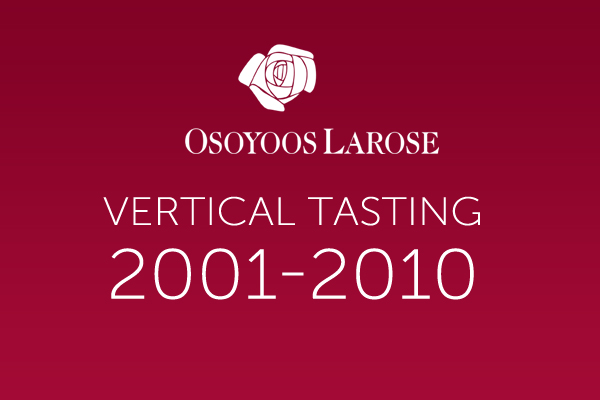 Image courtesy: www.osoyooslarose.com
British Columbia wines are starting to make a world wide impression with their quality based on increasingly older vines, unique terroirs, and a history of vintage variations. One winery among these leaders has been Osoyoos Larose. Here is a topical guest article by Trace Acres from www.vinsights.ca (with additional tasting comments from your scribe) on a recent vertical tasting of their wines from 2001-2010:
This 10 year vertical of Osoyoos Larose vintages 2001-2010 proved interesting showing the quality wine making by Pascal Madevon together with slow but sure encouraging development from bottle age. Even the lighter drying out somewhat 2001(no malbec or petit verdot in the first year but low yields of 24hl/ha) was surprisingly elegant with fruit cake flavours – best bottle I have ever tasted of it. 2002 (first one using all 5 Bordeaux grape varieties in the blend & highest ever malbec 12%) disappoints as dirty & a musty bottle; 2003 highest merlot (75%) showed much riper fruit with some intriguing chocolate notes; 2004 softer more red currant fruit (2004 was their first Petales (second label) from a similar grape mix but more forwardly delicious now); 2005 almost Chateau Pichon-Lalande like with good herbal notes on the nose & lovely exquisite balance; 2006 medicinal almost Chateau Leoville Barton like even though from lowest Brix fruit but nonetheless impressive depth with a long finish; 2007 similar but more herbal with greener leaner fruit; 2008 bit light showing more yield & not enough green harvesting with perhaps too much unripe cabernet sauvignon showing in the mix; 2009 very Okanagan "terroir" with admirable prominent ripe grapes here & such complex amazing volume & texture on the palate made it my clear winner; 2010 difficult cooler year like 2011 is less ripe with a shorter finish – better years overall for the whites! All in all an impressive vertical showing. Certainly an encouraging future for this property. Congrats!
Have you tried a Bordeaux style blend from the Okanagan Valley in BC?
---
You might also like:

Loading ...