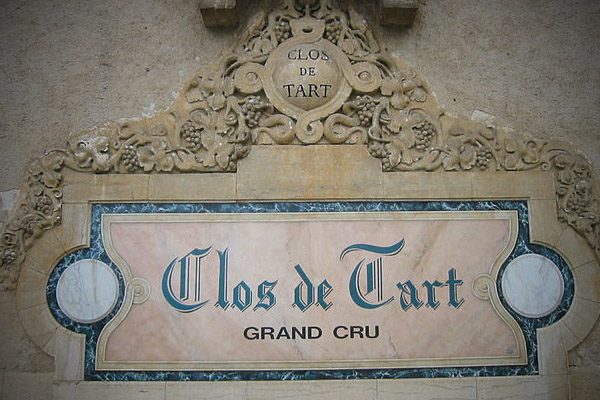 By Arnaud 25. [GFDL or CC-BY-SA-3.0], via Wikimedia Commons
One of my preferred Burgundy properties is Clos de Tart. This monopole of Mommessin since 1932 is only some 7.5 hectares but a shining star in Morey Saint Denis. I have been fortunate to visit this domaine several times with talented retired winemaker Sylvain Pitiot (now replaced by Jacques Devauges) and have been a long time collector of their wines. This month was an exciting vertical tasting-dinner of them and together with trying earlier this year 4 other top vintages (2010, 2009, 1990, and 1985) your scribe felt it was time to post an update report on this quality property:
2010: Classic structured style still young & energetic with lively firm balanced cherry fruit but closing down. Impressive quality but needs more time to come around.
2009: Riper softer almost sweet soy exotic red and black fruits. Wonderful intense power with forwardly smooth textures on entry though long finish is still quite tannic. A treasure.
2007: Light forwardly with some of that earthy barnyard character but for current use.
2005: Perfect balance but presently somewhat reluctant between that early youthful delicious clean juicy pure fruit and the bottle age development which is still to come. So promising at many levels and that dense classy Grand Cru vineyard status shows underneath. Will be a real beauty with a long life!
2003: Dark big thick and powerful. Atypical soupy Burgundy. Controversial style. Slightly strong spirits on the palate with coarser tannins lacking delicacy. This scribe prefers cooler fruit vintages.
2002: Less fruit intensity but fresh acidity & elegant and just starting upon a lovely drinking plateau especially with food.
1999: Brooding with weight and spicy gamey flavours but not singing. Still young and tarry. Like the potential but showing a coarser style at the moment.
1990: Structured and backward for a long time but now starting to drink much better showing impressive majestic opulence. Depth and complexity are there. Excellent.
1986: Palest rim of all. Some mushroom leathery bouquet with a touch of brett shows this as not the cleanest bottle. Overwhelmed by the tough company it is keeping.
1985: Always a favourite vintage and this wine from day one release has shown that delicious consistency combining power and fragrant elegance of sublime Clos de Tart terroir! Outstanding bottle tried here with complex maturity now!
1983: Dark colour. Difficult year with some rot but surprisingly sound here with good acidity. Delightful.
1983: Special mise familiale bottling of their best cask. Little bit lighter colour but very clean pure selection of only healthy grapes. Superb balance and delicacy. Amazingly fine and so much happening now on the nose and palate at 30+ years.
---
You might also like:

Loading ...