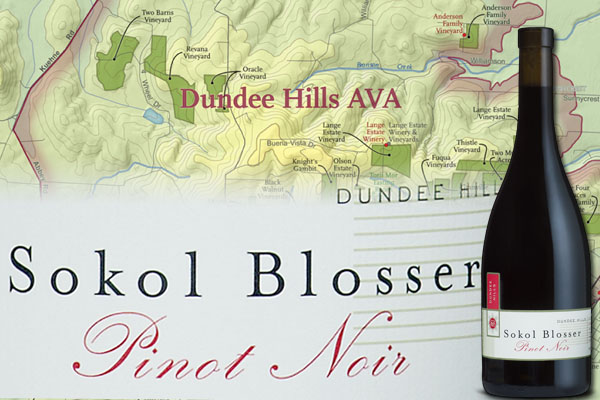 Image courtesy: sokolblosser.com
Last week at Whistler your scribe was participating in both the first Wine Summit followed by the 20th Cornucopia (www.whistlercornucopia.com). Many interesting events celebrating food & drink reported on Twitter @CornucopiaWine including a posting by @jamiegoode "What's the future for BC wine? Specialism or diversity? Thought provoking Debate: "What should British Columbia's identity be as a wine region?" is reported at www.wineanorak.com.
Another special treat there was chairing a vertical of SokolBlosser.com Dundee Hills pinot noirs with current winemaker (since 2012 – 4th one since 1977 first vintage) Alex Sokol Blosser and VP Consumer Sales Michael Kelly Brown. From an initial 5 acre prune orchard in 1971 converted to vines it has grown to 85 acres as the 6th largest wine producer in Oregon. The vineyard now has 15 distinct blocks of which 10 are pinot noir (Watershed, Old Vineyard, Big Tree, Goosepen, Blackberry, 12-Row, Orchard, Peach Tree, Walnut, and Concert) with different clone combinations (from 115, 667, 777, Pommard UCD4, Wadenswil, 12- Row, and Gamay Beaujolais type). The soils are rich red volcanic Jory soil with good drainage in the rain shadow of the Coast Range mountains and certified organic in 2005. Alex passed around the audience his "pet rock" sample of a volcanic rock from the vineyard. The wines have 100% French oak ("a fine sandpaper for finishing the wine") for 16 months every vintage and were naturally made unfiltered up until 2012 when changed to a very light filtration. Alex used the light on his mobile phone under the wine glass to show the difference in the clarity of colour from 2012 onwards.
The wines showed a consistent terroir with bright expressive earthy rustic subtle aromas ranging from riper warm vintages of black cherry and raspberry to cooler years of blueberry and cranberries with more acidity. Not as sweet fruit forwardly as other regions say like California or Central Otago but showing admirable balance, finesse more subdued food friendly styling. Like the vintage differences they show. Some of my brief comments on the wines:
2007: 14.5 alcohol. Cooler year. Lighter maturing colour. Surprisingly good for an unheralded vintage showing fragility of drying fruit but with acidity and complex structured pretty flavours on a current drinking plateau – especially with food.
2008: 14 alcohol. Warm year picked 2nd week of October with minimal rain. Shows darker tones with rich vivid fully flavoured attractive styling. Easy to like as the riper dark fruits are so prominent.
2009: 14 alcohol. Warm year. Supple and easier drinking both on release and now showing bolder baking spices. Ready.
2010: 13.5 alcohol. Cooler Year but has depth and a remarkable balance of fruit with wonderful structure. Excellent wine and no rush to drink this up. Really like it.
2011: 12.5 alcohol. Cool year results in light colour and low alcohol. Some delicacy but has enough fruit to be tantalizingly seductive. Acid is working to the best advantage. This would show perfectly matched with a salmon dish.
2012: 14.5 alcohol. Warm perfect ideal growing conditions and harvest without rain has resulted in a deep generous almost dried raisin darker fruits pinot noir that impresses. Everyone in Oregon should have made good wine in 2012 from perfect grapes. Well done.
2013: 13.5 alcohol. Warm summer with very ripe grapes but heavy rains at harvest resulted in an all hands on need for picking and much sorting. The wine is much better than I had expected from this vintage and though lighter than 12 is a lovely example of the Dundee Hills style.
2014: Wine samples got lost in shipment but it was a large production yield requiring crop drop and has resulted in better balanced wine with depth than initially was predicted. 2015 is similar with the higher yields but 2016 which was just picked has lower yields of less than 2 1/2 tons per acre.
Alex is a big supporter of IWFS and has been doing an outstanding job as our Oregon wine consultant helping us with valuable input for the annual Vintage Card. Many thanks.
---
You might also like:

Loading ...