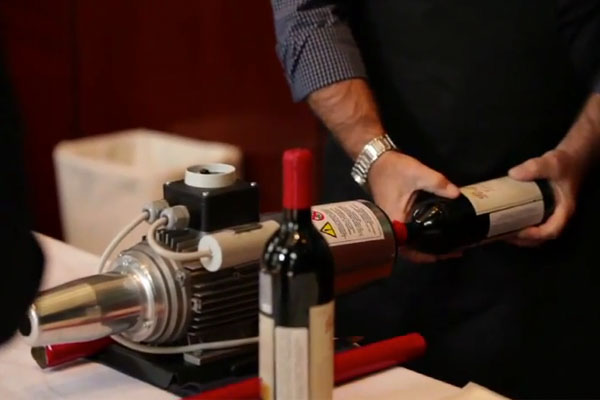 Image courtesy: www.penfolds.com
Penfolds re-corking clinics are celebrating 25 years since being established back in 1991. At the time it was inspired by the old Chateau Lafite-Rothschild service (no longer done) where they sent their cellarmaster around the world checking old bottles and re-corking Lafite where thought it necessary. It is an excellent free program that allows wine collectors to have the condition of their bottles (15 years of age and older) assessed by the Penfolds winemaking team in personal face-to-face interaction. This year it included Chief Winemaker Peter Gago, Senior Red Winemaker Steve Lienert and others who have just visited the North American cities of New York (October 21), Miami (October 25), Vancouver (October 28) and Los Angeles (November 2). It was their second visit to Vancouver following the first one on October 19, 2007 at the Four Seasons Hotel. At that time I brought along several bottles including the rich and powerful 1990 Bin 707 Cabernet Sauvignon. I was impressed that Peter advised me that all my bottles were in fine shape and he didn't recommend any re-corking. In fact he gave me a bottle of reconditioned 1980 Bin 707 to enjoy that proved later on drinking to be mature and deliciously savoury. He based his decision on my wine using the following criteria:
1. Re-Corking Not Required: No reduced ullage (space between the top fill of the wine and the cork), well cellared, no requirement for re-corking.
2. Re-Corking Optional: Slightly reduced ullage, may require re-corking.
3. Re-Corking Recommended: Very reduced ullage, high risk, requires re-corking, will assess the wine and where appropriate give authentication and back label signed off by them assuring known provenance. New corks are stamped with "Penfolds Red Wine Clinic" except for Grange which are re-corked with stamped "Grange" corks.
4. Wine No Longer Certifiable: Serious issues, unlikely to even open and check.
This visit I checked all my remaining bottles beforehand and they seemed fine to me so I didn't present any for inspection at the Shangri-La Hotel. There were certainly a lot of other collectors there getting sage advice on their bottles. A lot of re-corking was actually happening. It is important to note that they will only re-cork your bottle one time so it best not to have it done too early – or too late! Also a chance for all of us to taste the impressive balanced more elegant 2012 Grange and the other current releases in their Portfolio. Ben Shackleford Director of WTFN Entertainment in Australia and his film crew were there doing a National Geographic documentary feature and interviewed your scribe about my passion for quality wine and my thoughts on the world wine industry with a specific reference of Penfolds contribution to it. That was an easy interview to do as this amazing hands-on re-corking clinic was just one good example of their ongoing quest for wine quality. Their valuable handbook "The Rewards Of Patience" now in the 7th edition is another one. Penfolds is also so clever with these unique programs using them for marketing purposes in an admirable way: See Anthony Gismondi Vancouver Sun newspaper column November 5, 2016 "The Penfolds Health Checks are Pure Marketing Genius" at www.vancouversun.com.
Have you tried a Penfolds wine?
---
You might also like:

Loading ...