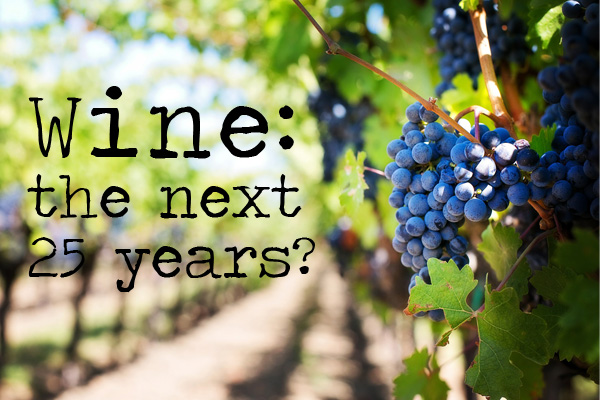 By Joseph Temple
Last week, power brokers and executives alike gathered at the Napa Valley Marriott for the 25th Wine Industry Financial Symposium. Titled "Game Changers For The Next Twenty-Five Years," this state of the union covered a wide range of topics, from recent distributor consolidations to what impact the legalization of marijuana will have on the wine business.  Presented by Robert Smiley, Director of Wine Studies at UC Davis, the findings were the result of two surveys given to industry professionals asking a series of thought provoking questions that are of great interest to every oenophile.
In terms of the economy, the survey asked what wine companies are doing to prepare themselves for another possible recession.  Having learned valuable lessons from the economic meltdown eight years ago, many respondents replied with diversification. "We are hitting multiple price segments," said one executive.  "If you go back to the previous recession of 2008, our premium luxury brands tanked.  Our value brands saw us through a little bit."
To further cushion any blow, another area that vineyards are looking at in regards to cost cutting is labor.  Specifically, the labor that goes into pruning and canopy management is increasingly on the chopping block.  "It has been common in Australia for years.  Wineries are accepting it in the central valley, on the central coast.  We are now planting vineyards in Sonoma that are to be mechanically pruned," said another response.
Switching from manmade financial disasters to the wrath of Mother Nature, it would be impossible to not discuss the drought conditions plaguing much of the Golden State.  While many vineyards are confident that they can ride out the storm through technology such as rainwater catchment and storage, others are not so sure.  Offering a prophetic vision, one industry insider said: "We feel long term the [San Joaquin] valley probably can't support grapes because they will be crowded out by other crops and shortage of water … We're looking to obtain bulk wine from Argentina, Chile and Australia."
But perhaps the most interesting answers dealt with the growing impact of the millennial generation on wine sales.  Realizing that this group is very different from their baby boomer parents in terms of curiosity, many executives see exciting opportunities:  "I think the millennials are drinking new stuff.  They want to go out into the world of wine and not just Bordeaux, or Napa cab.  They want to go out and try new varietals."
What caught some by surprise is the idea that this generation is now ready to spend more on high quality wines.  With less purchasing power than their parents at the same age, the conventional wisdom is that vintages need to be at an ideal price point (below $20) in order to appeal to millennials.  However, given the explosion of foodie culture, this perception may be changing: "The drinking of high quality wine could be considered to be an extension of the foodie movement, which seeks high quality and local food.  Naturally, good wine pairs with this food."
Tackling numerous issues such as the growing market share of Hispanics in the U.S., the possible resurgence of neo-prohibitionism and the vast changes in distribution, this report offers oenophiles some fascinating insight into what the future might hold for the wine they love to drink.  "I see the future of the wine business is great.  It really is truly great," one executive concluded.
---
You might also like:

Loading ...