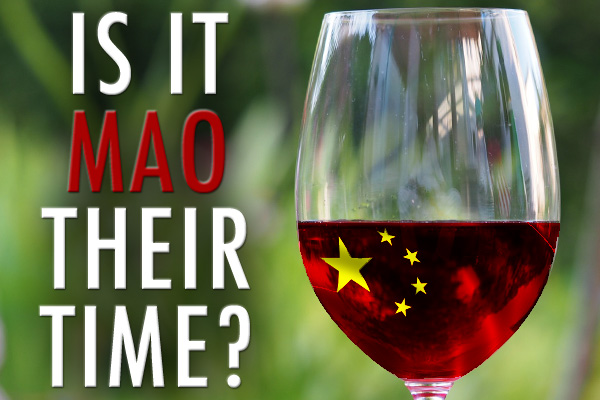 By Joseph Temple
Last week, forty years after California winemakers upset the French in dramatic fashion at a blind tasting known as the Judgment of Paris, the Fifth Republic experienced another shocking loss at the hands of an unlikely foe. On the Mediterranean Coast, at the Château du Galoupet, 21 nations from around the world sent their best oenophiles to sample six whites and six reds in a rigorous tasting competition. Without seeing the label or bottle, each team of four had to identify the country of origin, vintage, appellation and grape varieties used. And when it was all said and done, the winners were not French, European or even American—they were Chinese!
Described by one organizer as a "thunderbolt in the world of wine," this Cinderella story, which garnered headlines across the world, may end up changing the way the rest of the world views this emerging superpower.   Humble in victory, the winning Chinese team described this triumph as "50% knowledge and 50% luck" but after defeating France, Spain, the United States and a host of other nations, one cannot stress enough how big this event is for both their national wine industry and their wine culture in general.
Looking at the facts, it really shouldn't come as any surprise that China won this competition. In 2013, the BBC reported that Chinese consumers drank more than 1.6 billion bottles annually and were the second biggest buyers of top claret by volume. Likewise, in 2014, it was reported that China's wine consumption was double that of its closest competitor, the United States. While Chinese drinking rose by 36 percent, two traditional winemaking nations—France and Italy—showed decreases. Clearly, China is now a country of oenophiles that drinks not only the best from Bordeaux and Napa, but from its own backyard as well.
For those unfamiliar with Sino wines, a little background: Last year, China overtook France as the country with second largest vineyard area of 799,000 hectares; only Spain has more with 1.02 million hectares. This phenomenal amount of growth can also be seen in the total land devoted to vineyards, which shot up from 4% in 2000 to 11% in 2015. Clearly the Chinese have taken to viticulture.
However, matching quantity with quality has produced mixed results. Known by many around the world for cheap bulk wines, the tide may be turning in another direction. Back in 2011, a Chinese winery in the northern Ningxia province beat its French competition and won an international gold medal for its 2009 vintage. While there is still a long way to go, many European juggernauts such as Domaines Barons de Rothschild and Moet Hennessy are setting up shop in Yunnan and Ningxia provinces respectively, perhaps serving as a bellwether for better things to come.
With an insatiable thirst for the finest wines from across the globe, China has left a huge footprint in Provence that is sure to turn some heads. Describing the fierce competition required to be on this championship four-man squad, its coach said: "In China the selection process to get a place on the team is truly ferocious, which means that here we only have the very best."
---
You might also like:

Loading ...