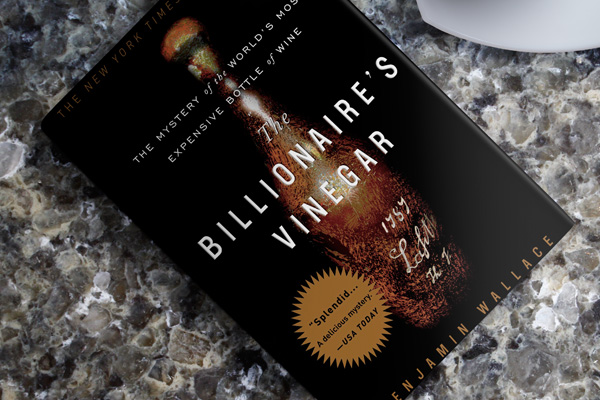 Over the past few years, the issue of wine fraud has been a hot topic of discussion amongst collectors and seasoned oenophiles. Earlier this year, a message board posting on the popular website Wineberserkers.com raised serious alarm bells about several supposedly rare bottles for sale in Geneva. The evidence turned out to be so convincing that the auction house embarrassingly had to pull several lots from the collection, casting a dark cloud on all future auctions. In the realm of documentaries, a new film titled Sour Grapes debuted this summer chronicling the story of notorious fraudster Rudy Kurniawan. Currently residing in a United States Correctional Institution for selling fakes on a grand scale, when his home was raided back in 2012, law enforcement found "17,000 labels and bottles soaking in the sink to soak the labels off," according to the FBI.
Covered in the pages of Wine Spectator and on numerous websites and blogs dedicated to wine, this fascinating subject is poised to break out into the mainstream when The Billionaire's Vinegar, a major motion picture starring Matthew McConaughey hits the silver screen. Based on Benjamin Wallace's 2008 book of the same name, the movie will highlight one of the most notorious cases of wine fraud in the United States when in 1985 a bottle of 1787 Chateau Lafite allegedly owned by President Thomas Jefferson went for an unheard of $156,000—an accomplishment later tarnished after it was discovered that this and a series of other "Jefferson bottles" were all forgeries. So before you go out to buy a ticket, be sure to get your hands on a copy of this captivating story. After all, it's much cooler to read the book before seeing the movie!
Written as narrative nonfiction, the author uses a template similar to the 2003 mega bestseller The Devil In The White City, where as the reader eagerly turns the pages of this true crime mystery, they will simultaneously soak up a ton of historical knowledge. As Wallace mentioned in a talk to promote the book, part of his inspiration for writing The Billionaire's Vinegar came from the lack of wine books appealing to a casual crossover audience. Unlike some dry technical guides that deal with climate and topography or the latest edition of Wine for Dummies, this is the definitely the one to get if you want to learn more about wine. Even if you just like to have the occasional glass with dinner, by the end of this book, you'll be able to cite all sorts of interesting anecdotes to your friends about famous estates like Château Pétrus and Château d'Yquem. There's no need to memorize a bunch of banal facts; this story will do far more to advance your appreciation of wine.
While many see the whole issue of wine fraud as nothing more than a rich man's problem, The Billionaire's Vinegar is interesting in that it shows us that anybody can be duped, no matter how much money they have or what their status is in life. In fact, it is simply amazing how former rock band manager Hardy Rodenstock, the man who claimed to have "discovered" a series of bottles in a walled-up Paris cellar containing the engraved initials "Th.J." was able to play many in the wine community like a violin. Trading in a top hat for a fine tailored suit, this glorified carnival barker succeeded in creating the illusion that buyers, which included the Forbes family, were "drinking history" by bidding on bottles purportedly owned by America's most famous oenophile.
Even more intriguing is despite the fact that alarm bells that were ringing nonstop in the aftermath of this auction, bidders decided to simply ignore them, treating Rodenstock's assurances as undisputed dogma. Wallace writes, "[Monticello research associate Cinder] Goodwin further noted that Jefferson had requested that the marking take place at the vineyard, which didn't explain how wines from four different vineyards seemed to have been engraved by the same hand … When Goodwin's report came out, [Christie's auctioneer Michael] Broadbent and Rodenstock reacted not with gratitude … but with rage."
It was this rage, combined with denial, abstraction, and their respective reputations in the wine world that kept this myth alive for nearly twenty years. Desperately holding on to the notion that they owned a rare piece of Americana, many buyers developed tunnel vision, refusing to listen to any facts that contradicted the Rodenstock narrative. And as the book demonstrates, back in the 1980s and 1990s, before the Internet explosion when information was more compartmentalized and not as widely available, it was difficult to put all the pieces together in order to create the big picture. After finishing The Billionaire's Vinegar, it makes you happy that we live in an era of instant communication where citizen journalists can use websites, message boards and social media as giant megaphones to inform the masses. Had those means existed back in 1985, the Jefferson bottles would have probably been exposed as a gigantic fraud in matter of days, not decades.
Like any good detective, the reader follows along as a rock solid case is built against Rodenstock and his wine bottles. Although there is a mountain of circumstantial evidence throughout the story, you can't help but feel a great sense of gratification when you finally learn about the smoking gun courtesy of billionaire Bill Koch and his team of high-priced investigators. Sparing no expense in uncovering this mystery, it would take the efforts of Scotland Yard and the FBI to finally prove this fraud beyond a reasonable doubt.
By combining wine history and true crime together into an irresistible blend, Wallace has created a riveting story that has attracted the attention of both wine lovers and Hollywood. Appealing to a wide cross section of the population, his book introduces the casual audience to the major players, estates and vintages in the industry, forming a bedrock of knowledge in wine appreciation that makes people want to go out and learn more.
---
You might also like:

Loading ...