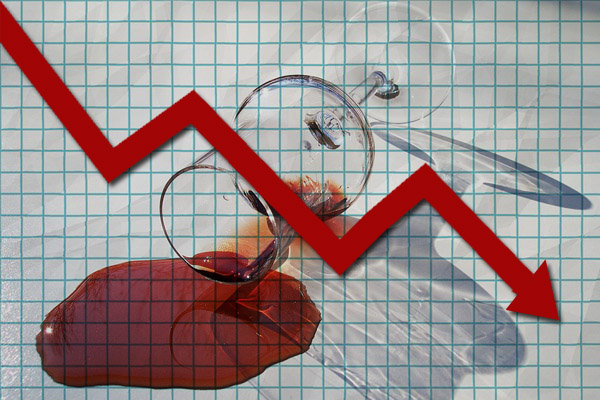 By Joseph Temple
Attention all fans of South American wine—you've been warned!
That's because the International Organisation of Vine and Wine (OIV) just released its annual report estimating that global wine production is expected to fall to 259.5m hectolitres (mhl) this year.  This represents a drop of approximately 5 percent making 2016 one of the smallest vintages over the past two decades.  Climate change combined with violent and erratic weather patterns are the two main reasons for this year's slump, which is resulting in a disparate impact globally. As countries like the United States, Australia and New Zealand see increases in their output (New Zealand is reporting a 35 percent increase), other nations are not so fortunate.
In France, the world's second largest producer of wine, they are anticipating a staggering 12 percent decrease this year.  The reasons vary: drought, fruit rot, hailstorms and spring frost are all listed as culprits for this year's decline, which has led to an output of 41.9 million hectoliters—nearly seven million less than Italy, the world's top producer.  However, this may be just the tip of the iceberg as the Burgundy region bears the worst of these changes.  Two years ago, some winemakers lost up to 90 percent of their crop while chardonnay and pinot noir were down 30 and 50 percent respectively in 2013.  If this situation becomes the new norm, some are even questioning whether Burgundy's climate can produce its signature grapes anymore.
Another country expected to take a gigantic hit is South Africa, which will lose about 19 percent this year.  But this pales in comparison to South America whose two top wine producing nations, Chile and Argentina, are set to lose 21 and 35 percent respectively.  In addition to the warmer temperatures, the El Niño phenomenon, which is one of the strongest ever recorded, has caused massive droughts and flooding throughout the continent with Argentina's famous Mendoza region experiencing four times more rain than the average in April, resulting in massive crop losses. Unable to adapt (Brazil might lose up to 50 percent of its vines this year), fans of Malbec might want to stock up as Latin American winemakers enter a very tumultuous time.   According to one Chilean wine executive, "This drop in production will affect the supply of Chilean entry level wines, and will speed up the premiumization process of our industry for export. We should also see an increase in the price for top Chilean wines."
Overall, with annual demand between 239.7 million and 246.6 million hectoliters, unless you are a fan of the regions mentioned above, these recent events shouldn't tip the scales too much.  However, this report is a stark reminder of just how weather intensive the art of winemaking is.  "If there is one product that is vulnerable to weather events, it's wine," said OIV Director General Jean-Marie Aurand.
---
You might also like:

Loading ...