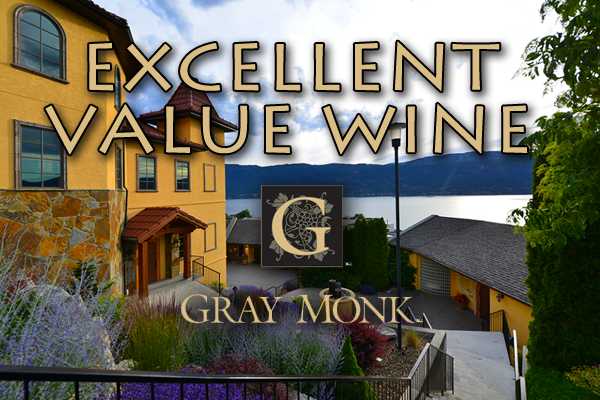 Image courtesy: www.graymonk.com
What is an excellent value wine? Certainly not just some plonk that is cheap. Nor something that is usually priced at hundreds of dollars per bottle or more that you find on sale. Hard to define exactly what is excellent value but a wine that delivers consistent drinkable quality with some interesting definition of the varietal or blend and also the place where the grapes are grown at a reasonable price is close to the mark. A wine that epitomizes that definition every vintage is a Riesling wine from the Okanagan Valley produced by the pioneering winery of Gray Monk Estate Winery (www.graymonk.com) – the oldest family owned and operated winery in British Columbia. The Heiss family named their winery based on the English translation for the Austrian named grape pinot gris and sourced 50 vine plants of it from Alsace in 1976 which became the first pinot gris plantings in Canada. The winery mission statement of "Generations of Commitment" is most appropriate indeed.
All their wines remain outstanding value but my favourite usually is their estate Riesling at only $13.89 – an amazing price considering the monopoly liquor distribution system of BC! For so many vintages in a row now I always have a bottle of it ready in the frig to enjoy as an aperitif – though it suits many food dishes too. It always delivers fresh lively higher acidity but balanced with an appropriate level of residual sugar at lower alcohol levels around 10-11 degrees. Very Riesling mineral characteristics shine from the unique northern Okanagan terroir that provides sipping interest. Delicious! So pleased to finally see this wine getting the recognition it has so richly deserved. The 2013 recently received Gold as the best Riesling varietal at the Okanagan Spring Festival followed by a fantastic Platinum at the National Wine Awards of Canada by Wine Align. Their consistent track record for the Estate Riesling promises more of the same for upcoming vintages as well. Try a bottle and understand what excellent wine value is all about! Enjoy.
---
You might also like:

Loading ...