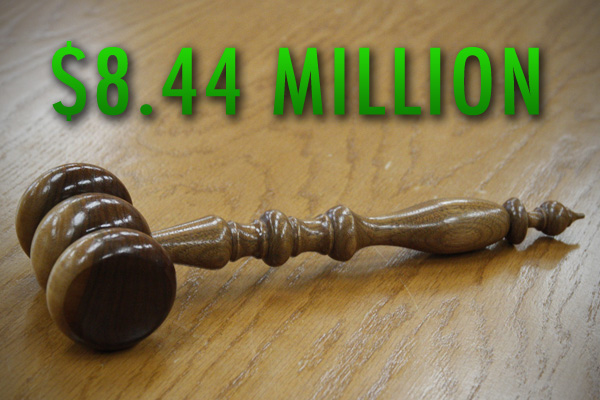 By Joseph Temple
If you're a rare wine collector, then 2016 is shaping up to be your year! First came billionaire tycoon Bill Koch who, in the spring, auctioned off 20,000 bottles from his massive collection, which ended up garnering an astounding $21.9 million dollars. And just last week, a treasure trove of fine Bordeaux belonging to the late Aubrey McClendon, co-founder of Chesapeake Energy in Oklahoma City was also placed under the gavel. Projected to sell between $5.1 and $7.6 million dollars, this collection ended up defying expectations by earning $8.44 million with approximately 80% of the lots going above the high estimate.
McClendon, a pioneer in hydraulic fracturing (a.k.a. fracking) and former co-owner of the NBA's Oklahoma City Thunder was also known for being one of America's biggest wine collectors. Never shy about showing off his spoils, reporter Chris Helman wrote that during an interview at a restaurant owned by the billionaire, McClendon poured him a 1989 Petrus, a 1989 Haut Brion, and a 1982 Lafite Rothschild. Not a bad five figure pairing to go along with some steak and fries, but as he told Helman rhetorically, "We can drink cheap wine, or we can drink good wine."
So when Hart Davis Hart Wine Co., based in Chicago announced that the collection comprising of 1057 lots would be auctioned off, wealthy oenophiles from around the world were ready to bid, both in person and online. According to the company's press release, nearly 1,000 bidders from 42 states, 17 countries and 4 continents generated $57 million dollars in bids. Unsurprisingly, given McClendon's philanthropic endeavors along with his public role in moving the Seattle Supersonics to his home state, many native Oklahomans showed up to bid. "We had more than ten times the usual number of Oklahoma bidders on this record breaking day," said the president of Hart Davis.
Here are some highlights from an auction featuring mostly wines from Bordeaux and some from California: (the entire auction results can be downloaded here):
3 double magnums of 1989 Chateau Petrus: $65,725
1 jeroboam of 1989 Chateau Haut-Brion: $33,460
4 bottles of 1959 Chateau Haut-Brion: $8,365
12 bottles of 1982 Chateau Lafite Rothschild: $33,460
12 bottles of 1989 Chateau Le Pin: $41,825
12 bottles of 1990 Chateau Cheval Blanc: $13,145
1 imperial of 1990 Chateau Margaux: $11,950
12 bottles of 1982 Chateau Mouton Rothschild: $16,730
3 bottles of 1997 Screaming Eagle Cabernet Sauvignon: $14,340
1 salmanazar of 1991 Dalla Valle Red Wine, Maya: $8,365.00
Sources:
Helman, Christopher. Booms, Busts and Billionaires: A Decade of Forbes Oil Stories. Jersey City, Forbes Media, 2015.
---
You might also like:

Loading ...