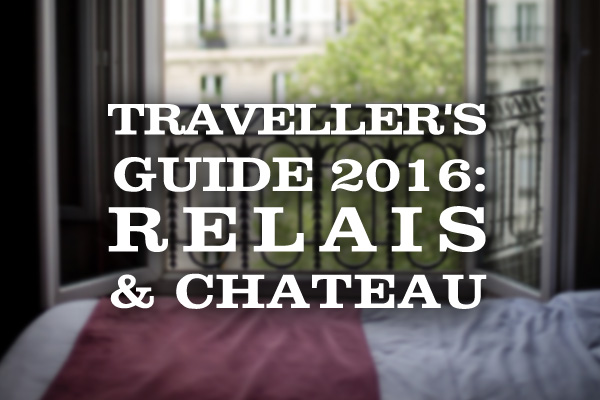 So many choices out there these days for your hotel and restaurant bookings. On line bookings are easy and ever expanding. Branding and consolidation are the buzz words in the hotel industry. Look at the recent merger of Marriott & Starwood to become the world's biggest hotel company with over 5500 locations and 1 million rooms. How do you choose where to stay on your travels?
On the other end of the scale are the smaller more unique "boutique" hotels. Lots of printed material out there to assist you with your choices including for example the popular red Michelin Guide. One book I enjoy picking up every year that is FREE is the useful compact white covered Traveller's Guide published by Relais & Chateau (www.relaischateau.com). Their new 2016 Collection of 264 pages spotlights 540 worthy properties on 5 continents in 60 countries. Like their appropriate description for the unique world of Relais & Chateau as "a united family whose members all share …a place where they cultivate a particular art of living." It is always interesting to review the section in which the new members (this year 38 of them) are welcomed including internationally renowned chefs. A wonderful new feature this year is the creation of 50 "Routes du Bonheur" (www.relaischateau.com/us/destinations/routes-du-bonheur) detailing thought provoking ideas for your next wine and food vacation with some helpful itinerary maps. Wide ranging suggested regions to explore including the vineyards of Champagne, Burgundy, Bordeaux (comments from Jean-Michel Cazes of Chateau Lynch-Bages) and the Douro Valley. The bike tour in Provence looks enticing as well as the Castles of the South of Ireland. Highly recommend you pick up a copy to peruse from a Relais & Chateau property near you! Enjoy.
---
You might also like:

Loading ...