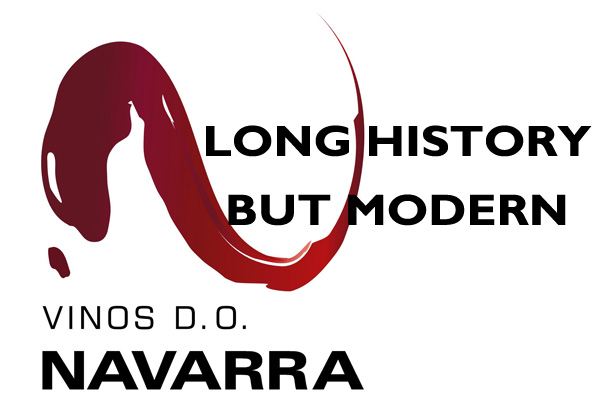 Image courtesy: www.navarrawine.com
Spain is enjoying an increased focus for the improved quality of their value wines. One wine region that is still somewhat under the radar is Navarra. The Denominacion de Origen (D.O.) Navarra (www.navarrawine.com) shows diversity with 5 different sub-regions of "Estella", "Valdizarbe" and "Baja Montana" in the north (actually just south and west of "running with the bulls" Pamplona) with a cooler more humid climate, "Ribera Alta" in the middle where it is drier and the temperature warmer, and "Ribera Baja" most southerly and semi-arid.
The region has a long wine history back to the Romans, continued by the Arabs, and by the Christian monks in the monasteries of the Pilgrim's Way to Santiago de Compostela. After phylloxera hit in 1900 Garnacha was replanted everywhere during the seventies and eighties reaching 90% for that variety in the vineyards. However, today pushed by a new generation of winemakers the wines are still terroir driven but showing a new modern fresh "bodegas" style that is so attractive to consumers. Now 90% is red grapes but Tempranillo is 33%, Garnacha only 24% (main contributor to a popular modern fruity raspberry strawberry "saignee" rose wine), Cabernet Sauvignon 16%, Merlot 14%, Graciano 2% and a smattering of Mazuelo, Pinot Noir, and Syrah. White grapes represent only 10% with the Chardonnay variety that first arrived in the 13th century still with 4% of plantings delivering a fragrant racy wine from the cooler areas, "Moscatel de Grano Menudo" a small golden berry Muscat for sweet late harvest fortified style, and some Viura, Sauvignon Blanc, Malvasia, and Garnacha Blanca.
Trendy Rose is taking off. Their young reds can be fresh & lively, but tasty Crianza with at least 9 months in oak barrels, and Reserva (at least 3 years old with at least one year in oak) & Gran Reserva (aged at least 5 years with a minimum of 18 months in oak) are more complex.
On your next visit to Spain check this emerging region out. A good tip is to stay at the Parador in Olite and tour the very nearby Ochoa Winery (bodegasochoa.com) to try their balanced "living wine" including some single vineyards. Like their 2009 Reserva blend aged in barrels for 18 months finished with natural cork in a lightweight bottle from 55% Tempranillo, 30% Cabernet Sauvignon & 15% Merlot and the reasonably priced good fruit 2012 Crianza of 100% Tempranillo.
Have you tried a new wine from Navarra?
---
You might also like:

Loading ...