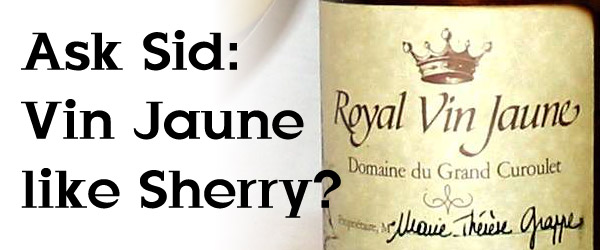 By User:Arnaud 25 (Own work) [GFDL or CC-BY-SA-3.0], via Wikimedia Commons
Question: Tasted some Vin Jaune wines from the Jura that made me think of dry Sherry. Am I correct?
Answer: Yes they are similar because after fermentation both are aged in wooden barrels that are not topped up under a layer of yeast that forms on the surface. This gives that distinctive oxidative character you recognize in both. However different grapes are used with Savagnin for Vin Jaune and Palomino in Sherry where the latter is fortified with a spirit under a solera system. Vin Jaune is unfortified from a single vintage aged in oak barrels until the middle of December of the the 6th year after harvest. It also uses the unique 62 centilitre Clavelin bottle. Vin Jaune is very dry with no residual sugar left (like a dry Fino sherry) but has very high acidity with an intriguing spiced nuts complexity.
---
You might also like:

Loading ...