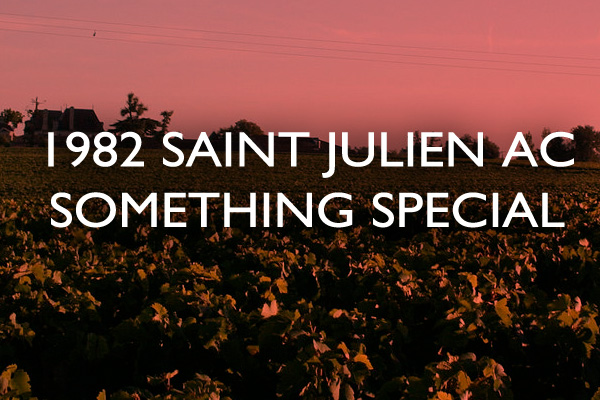 By Megan Mallen [CC BY 2.0], via Wikimedia Commons
Fortunate this month to enjoy quite a few wines from Bordeaux of the 1982 vintage. I have been impressed by these beauties since their initial release at what turned out to be a very cheap price and their delicious drinking over the past 30+ years. They are of course now expensive and not always from well stored providence but they continue to amaze and can be of relatively good value compared to the high release price of current vintages available. Advanced vineyard methods including lower yields and cellar management with much less of the Grand Vin produced herald the more consistent recent vintages from say 2005, 2009, and 2010 than from 1982. However there still are some 1982 jewels that you may have hidden away for a special occasion or to be searched out for at auction.
Just had a superb bottle of 1982 Cheval Blanc from St. Emilion that has been my favourite from this vintage so far this year though 1982 Mouton Rothschild Pauillac made it a close race. St. Emilion was not the most successful appellation in 1982 but this particular bottle was still singing with complex rich full smooth opulence particularly in the mid palate and so balanced with integrated tannins. Neighbouring Pomerol is a more consistent AC in 1982 and La Conseillante served with the Cheval held its own particularly on the spectacular aromatic bouquet using the same grape mix of merlot & cab franc but in different ratios. I haven't tried this year the impressive Petrus but have tried bottles of the other highly acclaimed First Growths including Latour, Lafite and La Mission Haut-Brion but they were not showing as 100 point bottles. Bottle variation!
However let's leave the First Growths out of this. St Estephe are drinking well now with Montrose, Cos & Calon-Segur leading the AC. Graves & Margaux generally are less consistent in the 1982 vintage. There are other fantastic 1982s! Most Pauillac AC are outstanding now! Lucky to drink 1982 Grand Puy Lacoste quite often and it never seems to disappoint with the latest one tried showing explosive cedar tobacco with attractive complex round smooth textures. Just compared 78, 79, 82, and 83 Pichon Lalande and 82 beautifully ripe but given a close battle by the 83 in a different style. As I noted last year in my July 20 blog posting Jean-Michel Cazes says their "1982 Lynch Bages may have been consumed too early".
My vote for best value most consistent AC in 1982 goes to Saint Julien. Served blind 4 top properties this month and all were impressive. Branaire-Ducru most advanced in colour and development but so elegant and marvellous currently. Leoville Barton classic deep more reluctant touch of iodine no rush but will improve further. Talbot a winner so solid with dense sweet black and herbal red fruits and approaching best plateau. Cordier big sister Gruaud Larose has more cedar cigar box but a tad rustic here – not the best bottle as usually is more outstanding! Other St Juliens not in this tasting all show exemplary now – led by Leoville Las Cases, Leoville Poyferre, Ducru Beaucaillou, Beychevelle, Langoa Barton, plus even St Pierre, Clos du Marquis, and Gloria. Treat yourself.
---
You might also like:

Loading ...