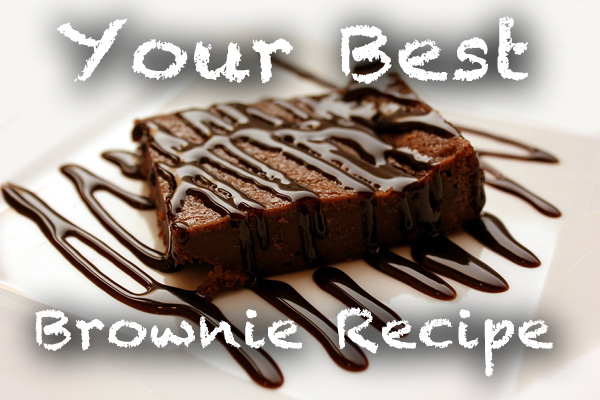 On Saturday we attended a dinner party at an IWFS Vancouver member's home. Some excellent "Sicilian" themed dishes with matching wines were produced topped by a delicious fish stew that included cod, scallop, crab, mussel and clam all before the dessert course arrived. Surprise! Eight brownies purchased from some of Vancouver's best bakeries were served "blind" with a tasting sheet and pencil for ranking them. This scribe is a dark chocolate addict and even has a stuffed toy bear that says "I love chocolate" every time you squeeze him. Last week also attended a special chocolate tasting by the quality Tuscan company Amedei (www.amedei.it) who transform the best cocoa beans from Madagascar to Venezuela, Ecuador to Jamaica, to the Caribbean islands of Trindad to Grenada into unique "terroir" creations. Liked the Ecuador ones. Also look for their classic "9" blended vineyards (75%), Porcelana, Chuao, and new Blanco de Criollo.
This tasting of Vancouver brownies was dessert heaven for me. Amazed at how different the 8 brownies showed. From a light flourless style to rich fudgy ones. Didn't appreciate those that added noticeable oil, cocoa powder, too much sugar, or canned evaporated milk. Purity was best. The unanimous top two were the outstanding vegan one made by Beaucoup Bakery & Café 2150 Fir Street (corner of west 6th) using Valrhona chocolate to advantage closely followed by # 2 ranked Sweet Obsession 2611 west 16th with crunchy pecans & raspberries using Belgian chocolate. Check them out. If you are not able to do so then recommend making your own following this tried and true Joan Cross recipe that is really delicious:
Best Brownie Recipe:
10 oz. bittersweet chocolate (use at least 64%)
4 oz. unsalted butter, cut into 1/2 inch pieces
3 large eggs
1 cup granulated sugar
1/4 teaspoon salt
1/2 teaspoon vanilla
3/4 cup all purpose flour
Preheat oven to 325F ( 300F convection ).
Chop chocolate into 1/2 inch chunks. Melt 1/2 of the chocolate and all of the butter in a heat-proof bowl over barely simmering water until melted. Stir smooth & remove from the heat. In a bowl with a wooden spoon beat eggs, sugar, salt and vanilla until smooth. Add barely warm chocolate mixture. Add flour about 1/3 at a time stirring each addition just until blended. Add remaining chopped chocolate and mix until chunks are evenly distributed. Line bottom and sides of a 9 inch square pan with parchment paper draping over the rim a little. Scrape batter into pan and spread level. Bake just until surface develops a thin crust and fingertip pressed very gently in the centre leaves a soft depression. 20-25 minutes should be about right but do not overbake! Cool on rack for 1 hour. Lift out of pan with parchment. Cut into squares or triangles. Serve and enjoy. Option – garnish with lightly sweetened whipped cream, chopped fresh mint, and fresh raspberries. Another choice – a scoop of vanilla ice cream and a drizzle of caramel sauce.
Please provide us with your best brownie recipe!
---
You might also like:

Loading ...