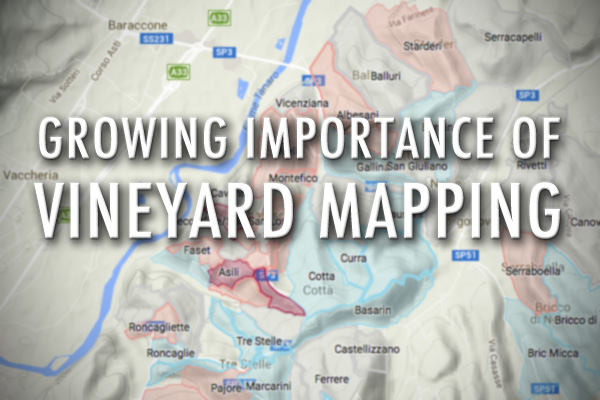 Image: vinous.com
Wine maps have been popular for quite a while now. I still remember how excited I was when the first edition of Hugh Johnson's The World Atlas of Wine was released in 1971 containing detailed maps of the wine regions and how to locate them. In fact it was that book together with A Wine Tour of France by Frederic S Wildman, Jr. that provided the background for my earliest trips in the seventies around France. Later in 1987 Hugh Johnson with Hubrecht Duijker published The Wine Atlas of France and Traveller's Guide to the Vineyards and in 1989/1990 Hachette/Pascal Ribereau-Gayon with a foreword by Robert M. Parker produced The Wines and Vineyards of France all with updates containing even more detail on the vineyards in France. Of course The World Atlas of Wine has gone through many updates with the valuable input of Jancis Robinson from 2001 for the 5th edition that was 30 years after the first one. Subsequently the dynamic duo have released the 6th in 2007 and the current 7th in 2013 – "completely revised & updated".
Wine lovers now have an increasing real desire to check out "terroir". Accordingly there is valuable material out there both on line and in hard copy to help you determine the specific place that gives that unique character to the resulting wine produced from that site. This is a growing trend everywhere around the world. Interactive Vineyard Maps at vinous.com are excellent for Barolo and Barbaresco mapping and now also their latest Napa Valley series starting with the vineyards of Oakville and Pritchard Hill. Renowned wine cartographer Alessandro Masnaghetti is on their wine team. Also check out Regional Wine Maps around the world at winefolly.com.
Emanuela Stucchi Prinetti wine proprietor of her family owned quality Tuscan winery Badia a Coltibuono dating back to 1846 was in Vancouver this month. Answering a question I asked her about the new Chianti Classico Gran Selezione classification she stated they are not participating in it currently but putting all their emphasis on producing pure Sangiovese from distinct specific vineyards instead. Their vineyards are located in the Monti in the southern section of Gaiole in Chianti. She pointed this out as she produced the amazing second edition (2016) detailed large map I Cru Di Enogea showing Vineyards and Production Zones for Chianti Classico DOCG edited by the same Alessandro Masnaghetti. It does an excellent job of helping your understanding of these regions starting clockwise at 12 o'clock heading southeast of Firenze with Greve, Radda, Gaiole, Castelnuovo Berardenga (most southerly at 6 on the clock just north of Siena), continuing northerly on the west side through Castellina, then Barberino, Tavarnelle and San Casciano all three Val di Pesa which includes the tiny Poggibonsi.
The extensive narrative on the back of the map is outstanding in explaining that "more than 18,000 acres (7300 hectares) of vineyards currently in production, extending over an overall surface area ten times as large: these figures give only the vaguest of ideas of the complexity of an appellation like Chianti Classico". I like the modest guide note of "If it is true that the production of wine in Chianti Classico tied to specific places and areas is an historically documented fact, it is equally true that a traditions of vineyards considered to be crus is not as firmly rooted as in other wine producing zones. If we add to this fact the very important variability of soil types, of exposures, and of altitudes, it is easy to understand that the idea of tracing boundary lines quickly demonstrated itself to be a complicated task, and one by no means without pitfalls."
Your scribe was so fascinated by this new revised mapping and explanation of Chianti Classico that Emanuela Stucchi Prinetti kindly gave to me her personal Map. Lucky me. For the rest of you interested in more detail of what makes this region so unique and special you will have to obtain your own copy. Recommend you look for more vineyard maps to study from the key wine regions around the world that interest you. Always an outstanding learning tool about wine!
---
You might also like:

Loading ...