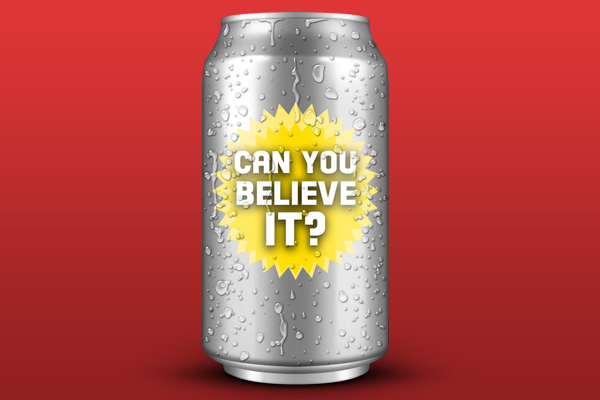 By Joseph Temple
For traditionalists, the idea of drinking wine from cans has always been seen as an anathema. While sales of beer, soda, and energy drinks have flourished from their association with aluminum, many oenophiles feel the metallic tastes that may result from this type of container are completely unsuited for the complexities of wine. Furthermore, the cherished ritual of uncorking that special bottle in front of friends and family doesn't have quite the same impact when you replace it with a ring pull. And for decades, this mindset has dominated the marketplace as canned wine has represented less than 0.1 % of overall wine consumption in America. But this may be changing as Nielsen reports that sales of canned wine have increased by over 125% in the past year.
This surge in sales has been largely the result of millennials—a demographic group that represents approximately ninety million Americans that is growing at a rate of 10,000 people turning 21 every single day. Consuming nearly 160 million cases last year (roughly 42% of all wine sold in the United States), their impact has caused enormous ripples throughout industry. Not adhering to the rules and standards set by previous generations, their influence can be seen with such unorthodox products as blue wine, the abundance of flashy and colorful labels at the wine store, and the resurgence of rosé. So when Whole Foods predicted that canned wine would be one of the hottest trends of 2016, they clearly had their finger on the pulse of this transformative group.
Looking at the advantages of canned wine, convenience and portability tops the list, especially for those planning on going out this summer. Whether it's picnics or days at the beach, drinking straight from the can is certainly more hassle free than having to haul a bottle, corkscrew, and several wine glasses around. According to one Harris poll, 73% of respondents said that having packaging that is easy to carry around is extremely important. And under the hot and humid sun, a cold refreshing beverage is always preferable. Having said that, it's no surprise that sparkling wines, usually served chilled, have been the most popular choice, representing 90% of all canned wine purchases in 2012. However, this is changing rapidly as canned table wine sales have increased tenfold in just one year, doubling that of sparkling wines.
Unlike "Kan-O-Wine" and "Swiss Mist" of the 1950s and 1960s, this new era of canned wines have been able to connect with these younger consumers. Through hip and eye-catching graphics and a distribution model that makes them available at both local wine stores and trendy grocery stores, wineries selling their product in a can have begun convincing millennials that wine doesn't have to be seen as old fashioned. According to the Business Insider, "With the rise of millennial wine drinkers comes a growing demand for wines that are more innovative and less expensive. Wine apps, wine slushies, wine ice cream — millennials are craving wine, and they want it presented in a different manner than prior generations."
Can you believe it?
---
You might also like:

Loading ...