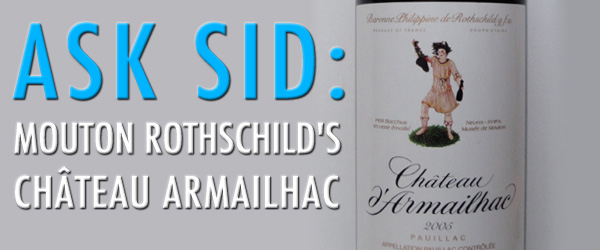 By Tomas er (Own work) [CC BY-SA 3.0 or GFDL], via Wikimedia Commons
Question: I am confused about the many names of the 1855 Classification Fifth Growth Pauillac Estate called Château Armailhac part of the Mouton Rothschild wine stable. Would you please clarify it for me?
Answer: Good reason to be confused because of the history of the name. In 1933 Baron Philippe owner of Château Mouton Rothschild bought 99 acres of the nearby Château Mouton d'Armailhacq from the proprietor Comte de Ferrand. In 1956 to help differentiate it from the brandy named Armagnac and to fully connect it more closely to the family it was renamed Château Mouton Baron Philippe. Other important dates include in 1970 Baron Philippe buying another 5th growth Pauillac estate Château Clerc Milon and in 1973 Château Mouton Rothschild being elevated from a second cru in the 1855 classification to a premier cru. In 1976 his wife Baroness Philippe de Rothschild died and in homage to her work the name of Château Mouton Baron Philippe was changed to Château Mouton Baronne Philippe. Then in 1989 it was changed once again to the current name of Château d'Armailhac similar to that original name.
---
You might also like:

Loading ...