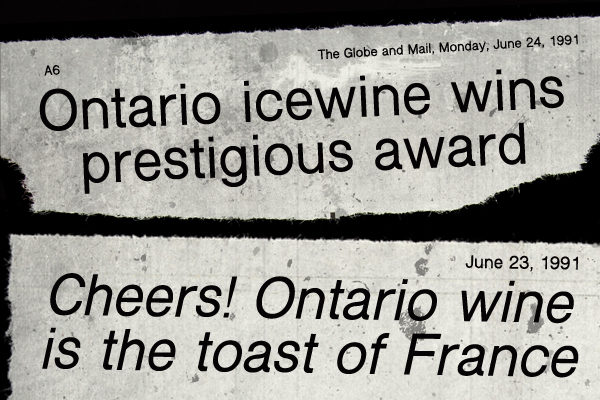 By Joseph Temple
With the Gulf War over and Canadians struggling through a sharp and painful recession, representatives from the Inniskillin Winery crossed the pond in June of 1991 to enter one of their best vintages at VinExpo in Bordeaux, France. Competing against more than 4,000 wines that year, a diverse group of 400 judges went through every single entry over a grueling period of five days. And when it was all said and done, this small upstart from Niagara-on-the-Lake and its 1989 Icewine shocked the world by winning the prestigious Citadelle d'Oro Grand Prix d'Honneur. "This has really put Canada on the international wine map," said Tony Aspler, wine columnist for The Toronto Star. "I don't think it's an exaggeration to say Inniskillin's entry was the underground hit of the show."
Fifteen years after the Judgment of Paris, it was now time for America's neighbor to soak in the spotlight after years of ridicule!
Sharing many parallels with California's vino-evolution, the province of Ontario also suffered from a reputation of producing wines that were high in alcohol and consumed mainly by individuals looking for a cheap buzz. While the Golden State became infamous for Thunderbird, Canadians of the baby boom era had their own notorious libation known as Baby Duck. But more importantly, just as Napa and Sonoma had turned the corner by making some outstanding wines, Ontario vintners saw a huge opportunity to produce a high quality niche product that would be consumed by oenophiles across the world—Icewine.
Given the first license to create an estate winery since prohibition, Inniskillin blazed the trail in the mid-1970s by planting popular vinifera varieties along the Niagara Peninsula. With some grapes developing a higher concentration of sugar, Icewine, which is picked when temperatures drop to -8°C or below for a sustained period of time, quickly became the region's unique and hidden gem. Unfortunately, just as many thought at the time that California didn't stand a chance against Bordeaux and Burgundy, conventional wisdom at the time dictated that German Eiswein was the undisputed champion.
Described as a wine with "a taste reminiscent of tropical fruits and honey," Inniskillin's 1989 vintage clearly proved the skeptics wrong. With the undivided attention of 50,000 wine buyers and journalists in Bordeaux, Sylvia Kaiser, the winery's co-founder's wife said after winning the Grand Prix d'Honneur, "It's like winning the film festival at Cannes and walking away with an Oscar in Hollywood." Echoing this excitement, one French buyer at VinExpo told The Globe and Mail: "Ontario icewine is unbelievable; I've never tasted anything like it … It's so fruity it makes my nose sweat—wonderful."
Back in Canada, as people read this front-page story, they were disappointed to learn that it would be very difficult to get their hands on this award-winning bottle. With Inniskillin producing only 400 cases of Icewine annually, liquor stores at the time rarely had any bottles for sale; the vast majority was available at only four shops owned by the winery. However, with this whirlwind of free publicity, a gigantic shift in consumer behavior was about to happen.
Following this game-changing victory, production and distribution of Icewine in Ontario skyrocketed from 2,000 cases in 1990 to more than 10,000 cases by 1994 as other Niagara-based wineries got in on this rising market. By the early 2000s, approximately 21,000 cases were being produced, making the region an epicenter for this unique product. Icewine had become a proud symbol of the country's burgeoning wine industry, being purchased across the globe from New York to Tokyo. And when looking back at the key turning point, Inniskillin's victory served as an important catalyst, making it worthy of a Canadian Heritage Minute!
Sources:
Cattell, Hudson. Wines of Eastern North America: From Prohibition to the Present—A History and Desk Reference. New York: Cornell University Press, 2013.
Lawrason, David. (1991, June 24). Ontario icewine wins prestigious award. The Globe and Mail. Retrieved from http://search.proquest.com.
van Rijn, Nicolaas. (1991, June 23). Cheers! Ontario wine is the toast of France. The Toronto Star. Retrieved from http://search.proquest.com.
---
You might also like:

Loading ...