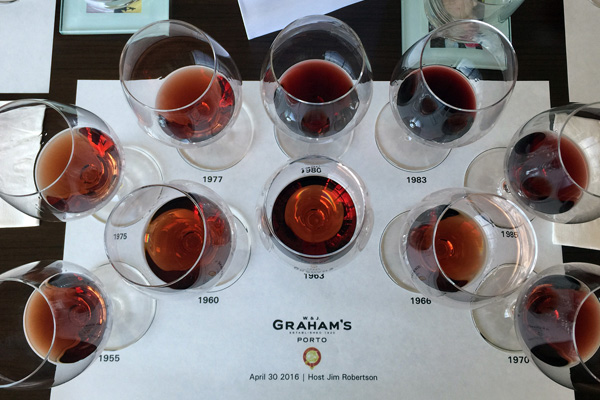 Photos credit: Milena Robertson
Older vintage port still remains a relatively great value in the fine wine market. Certainly Graham is one of the very best houses. Knowledgeable Jim Robertson with his talented wife Milena run the thriving Vancouver Branch of The International Wine & Food Society. They just orchestrated an authentic Douro experience to try 10 Graham vintage ports over 30 years between 1955 and 1985 with insight into Portuguese food dishes with an very appropriate lunch superbly prepared by Milena including items like bacalhau (salted cod), red pepper & anchovy, chicken with chorizo, and warm custard tart.
Brought back fond memories of January 18, 1987 when the late dynamic Haskell Norman founder of the Marin County Branch who organized during the eighties the very best wine events in the world did a similar 8 vintages of Graham from 1945 to 1887 with port lover the late Barney Rhodes making comments. Barney noted that port unlike most red wine gets darker for some years after it is bottled because of the higher alcohol acting on the fruit and only later slowly becoming lighter with aging. Showed how successful vintage port can be with extended aging as the 1927 was the a star at 60 years in 1987 while the big sturdy classic 1945 still had a ways to go – just like the 1955 at 60+ years is such a memorable highlight in 2016.
Graham was founded in 1820 but the current Symington family bought it in 1970 and acquired the fine south facing steep Quinta Dos Malvedos vineyard near Tua (east of Pinhao) only in 1981 with major replanting taking place in the late nineties. Prior to this they accessed other family owned vineyards including the massive chewy Quinta Das Lages, Quinta Do Tua, Quinta Da Vila Velha, and Quinta Do Vale De Malhadas. Keep in mind there are several grape varieties used including Tinta Barroca, big Touriga Nacional, perfumed lighter Touriga Francesa, and fruity Tinta Roriz adding different dimensions. All their wines are either by foot treading or use of their "robotic lagar" treading machine since 2000.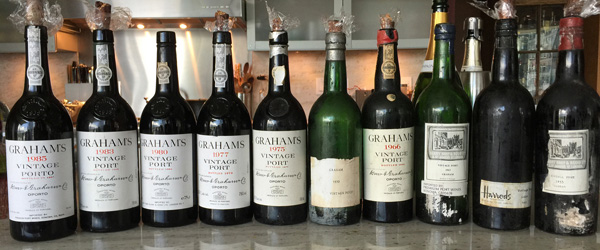 My short personal comments on the 10 Graham Vintage Ports:
1955: Berry Bros. bottled showing paler mahogany rim. Lovely licorice, violets, chocolate, rounded with other sensual delights on a magnificent plateau at 60 years. Lots going on. Impressive!
1960: Harrod's bottling with even lighter browner colour notes. Porty with more noticeable hot spirit showing through. Elegant but lacking fruit depth.
1963: Berry Bros. with some light red tones left. Classic but tea-like with less sweetness showing in this bottle and is slightly unbalanced to the brandy side. Drying out. Still interesting but have had better bottles of this year.
1966: Good red tones left. Open and so classy. Sweeter fruit dense and most complex. Enjoyed this vintage of Graham many times previously and always feel it is underrated. Again it shines here as a superb vintage port. Not really jammy but luscious liquid bitter chocolate. Really like this. So stylish!
1970: Wildman selection. Darkest colour so far but unfortunately showing too much TCA corkiness for me. Some bad floral. Can be wonderful.
1975: Palest of all from a weak year. Vinous and good effort by Graham but lacks the fruit to stand up to the other vintages here.
1977: Good colour but not as dark as 70 or 83. Dumb and closed for many years but now is opening up in its evolution. Cork was difficult to extract. Delicious nonetheless with prune chocolate notes again. Noted port authority Roy Hersh (www.fortheloveofport.com) in 2011 stated that he was wrong on his initial assessment of the 1977 and sees it "continuing to improve for at least another 15 years before hitting a plateau" with a 93+ score.
1980: Dark enough but a touch of oxidation takes the edge off it for me in this bottle. OK. Good useful easy drinking year.
1983: Very darkest with a lot of big intense fruit left. Flavours perhaps coarser pepper and less classy than 1985 for me. Solid with potential to develop even further with more bottle age.
1985: Less colour than 1983 but more stylish. Wonderful ripe plum and cherry fruit on both nose and palate. Like the elegance harmony and balance here. A more forwardly year in 1985 but superb.
---
You might also like:

Loading ...