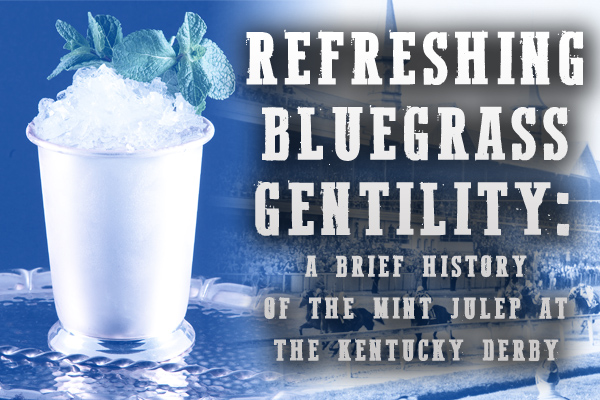 © Erich Wagner (www.eventografie.de) / , via Wikimedia Commons
By Joseph Temple
During the first weekend in May, enthusiastic horseracing fans from across the country arrive at Churchill Downs in droves for the Kentucky Derby, also known as "The Most Exciting Two Minutes in Sports." Since 1875, this annual event has featured some of the greatest thoroughbreds in history, from War Admiral and Secretariat to Seattle Slew and American Pharoah, making this race an integral part of the sport—the sport of kings! As columnist Irvin S. Cobb famously stated, "Until you go to the Kentucky Derby with your own eyes … you ain't never been nowhere and you ain't never seen nothing."
Of course, in addition to all the bow ties and extravagant hats is the alcohol. Described in great detail by the late gonzo journalist and native Kentuckian Hunter S. Thompson, the "Run for the Roses" is renowned for being a well-lubricated affair. Whether it helps even the shiest spectator belt out the words to "My Old Kentucky Home" or takes the sting out of a losing bet, there's no shortage of one particular drink on this very special weekend.
That drink is the Mint Julep.
A cool libation consisting of bourbon, sugar, crushed ice, water and mint garnish, this classic Southern cocktail has been the official drink of the Kentucky Derby for nearly a century. Traditionally served in a frosted silver cup, its refreshing nature proves popular amongst spectators enduring the heat and humidity synonymous with Dixie. According to some estimates, approximately 120,000 juleps are sold every Derby weekend, requiring 1,000 pounds of fresh local mint, 60,000 pounds of ice and 10,000 bottles of whiskey (more on that later). Evoking images of bluegrass gentility, the Mint Julep has largely become a once-a-year celebratory drink, consumed either at the track or by fans watching at home. And when tracing back its unique history and origins, it is clearly a cocktail clouded in mystery.
Legend has it that a Kentuckian created the Mint Julep while boating down the Mississippi, topping off his bourbon and water with some fresh mint he saw growing adjacent to the river. Others believe it to be an evolution of the English julep, which contained wine and brandy. Since poor Southerners at the time couldn't afford such expensive ingredients—even though Kentucky was one of the first states to make wine—they substituted it with cheap and abundant bourbon. And although nearly ninety percent of this spirit comes from the Bluegrass State, some historians believe that the Mint Julep actually originated in neighboring Virginia during the early eighteenth century. Then there's the name; it may have been derived from the Persian gulab or the Arabic julab, meaning rosewater. A complicated history to say the least.
Used at one time as a medicinal drink to ward off fevers, how it became part of horseracing culture is also in dispute. One story alleges that fresh mint was grown near Churchill Downs by its founder Meriwether Lewis Clark, Jr., inspiring a garnish to top off this libation.
Even more perplexing is that for an eighteen-year stretch; Churchill Downs didn't even serve authentic Mint Juleps. Since Early Times Kentucky Whisky—the official branded spirit of the Derby—has been aged in used barrels technically not allowing it be called bourbon, which by law must sit in new charred oak barrels.  Not until 2015 did Derby official switch to genuine bourbon, making their Mint Julep the Real McCoy.
Having said all this, you may want to experiment with the recipe. Most experts recommend using superfine sugar as opposed to regular granulated sugar when serving. Others have mixed opinions on the use of a straw; many feel that in order to savor the mint's aroma, you should either sip it from the cup or use a smaller straw. And since most of us don't own silver cups, regular glasses will have to do. But if a cool Mint Julep is right up your alley, pour yourself one as you enjoy the first leg of the Triple Crown series and savor a great piece of American history. Cheers!
Sources:
Avey, Tori. (2015, April 15). Why We Drink Mint Juleps at the Kentucky Derby. PBS Food. Retrieved from http://pbs.org.
Nicholson, James C. The Kentucky Derby: How the Run for the Roses Became America's Premier Sporting Event. Lexington: University Press of Kentucky, 2012.
Pardilla, Caroline. (2015, May 1). Surprise … The Kentucky Derby Hasn't Sold Real Mint Juleps in 18 Years. Eater.com. Retrieved from http://eater.com.
Reigler, Susan. Kentucky Bourbon Country: The Essential Guide. Lexington: University Press of Kentucky, 2013.
Schmid, Albert. The Kentucky Bourbon Cookbook. Lexington: University Press of Kentucky, 2010.
Young-Brown, Fiona. A Culinary History of Kentucky: Burgoo, Beer Cheese and Goetta. Charleston: The History Press, 2014.
---
You might also like:

Loading ...