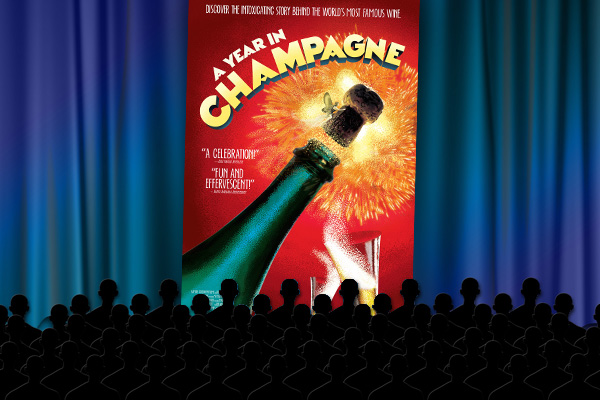 By Joseph Temple
*** WARNING: SPOILER ALERT ***
"Wines are generally known because they come from one special place, one appellation," says Bollinger's Ghislain de Montgolfier. "Champagne is known by the brand and the name of the owner. We transformed appellations into brands."
This thought-provoking statement provides an excellent starting point for David Kennard's 2014 film A Year In Champagne. Following the success of his previous documentary, A Year In Burgundy, Kennard heads north to a place where the wine is synonymous with wealth and prosperity. Interviewing six local winemakers over the course of 365 days, viewers are given a rare backstage pass to the 2012 harvest, seeing the trials and tribulations of a region that as one interviewee states, "understood very early how to connect to the spirit of celebration."
It is ironic considering the images we see throughout the movie. In comparison to Bordeaux and Burgundy, which receive a decent amount of sunshine; Champagne—the most northerly wine growing region in continental Europe—appears to be cold and dreary. Torrential downpours can turn vineyards into mud baths while insects, rot and mildew represent a constant problem for the Champenois. With this sort of weather, it's really no surprise that non-vintage champagne dominates the marketplace. "Our climate is right at the edge of what's possible for winemaking," declares Jean Pierre Palizon of the Corporation of Champagne Wine Makers.
Due to these conditions, the various houses are subject to rules—lots of rules. From pruning to cellaring, Champagne is governed by a rigid set of guidelines. Seeing row after row of vines that look almost identical, the film's narrator jokingly describes them as "soldiers on parade." Of course, failure to comply with this strict uniformity can result in the vineyard's appellation status being taken away, leaving the vintner unable to sell his product. There is a zero tolerance policy on creativity or individuality here; a clear contrast to the jubilation we like to experience while sipping on millions of tiny little bubbles.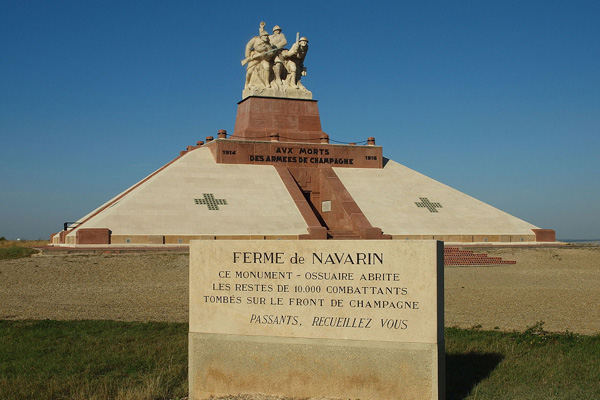 The Navarin Ossuary Monument
By François GOGLINS (Own work) [CC BY-SA 4.0], via Wikimedia Commons
The region's war-torn past also provides juxtaposition to the joy and happiness we often associate with champagne. Using black and white footage of the First World War along with some impressive shots of the Navarin Ossuary Monument, a pyramid-shaped structure containing the remains of 10,000 unknown soldiers, we learn how some of the bloodiest battles in history have been fought here. Since the time of Attila the Hun, Champagne has certainly seen its fair share of invading armies, which culminated during the summer of 1918 when the Second Battle of the Marne resulted in nearly 300,000 casualties.
While there are many riveting stories in this movie, a few key events were missed, such as the 1911 riots and the bitter feud between the Aube and Marne regions over what constitutes authentic champagne. So if you're eager to fill in the gaps, Champagne: How the World's Most Glamorous Wine Triumphed Over War and Hard Times by Don and Petie Kladstrup is a great book to complement this film.
Another aspect that was lacking had to do with the influence of marketing. Although there is some great footage mixed in with some iconic advertising posters, there were also plenty of missed opportunities. For example, while interviewing one of Bollinger's barrel makers, we see several James Bond movie posters on the wall. This shot could have been a great segue into explaining how champagne houses were at one time at the cutting edge of product placement marketing. After all, was it all just one giant coincidence that the Bollinger label is distinctly shown in several 007 movies?
Thankfully, the film truly excels at pulling back the curtain on these six winemakers over the course of a year. From the big names to the small family-owned estates that produce only a couple thousand bottles a year, this behind-the-scenes tour of their operations is simply fascinating. From the harvesting and pressing of grapes to seeing hundreds of miles of underground cellars where bottles go through a tedious riddling process, there are quite a few gems we get to witness. So if you're interested in how bubbles are made, then definitely watch this movie.
---
You might also like:

Loading ...