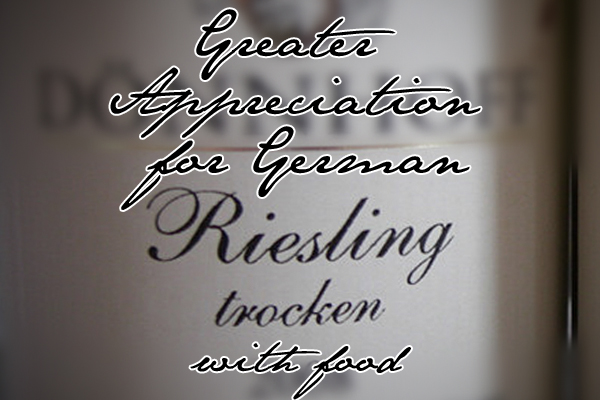 For many decades this scribe has been an enthusiastic fan of German Pradikat wines. I appreciate that it only describes the natural sugar content of the harvested grapes but those Kabinett (lighter & off-dry), Spatlese (slightly sweeter with more depth) and Auslese (richer almost dessert itself) wines are nearly always delightful drinking with good acidity balance. More recently Trocken (less than 9 grams of residual sugar) and Halbtrocken (off-dry with 9-18 grams) are becoming the wines of choice. I recall my visits in the eighties to Schloss Johannisberg near Geisenheim and questioning the winemaker why they would "waste" quality auslese grapes on a trocken wine. I posed "Why not drink more Loire dry whites"? The answer was that because the German consumer increasingly wanted their best local grapes made into a top quality drier style wine to be served with food. What a reality that has become!
Early on I found some trocken wines just a bit too sour, astringent and dominated by acidity lacking in enough fruit for my palate. Maybe my bias was showing. Today they certainly are much improved across the board with key specific sites and physiological ripeness ensuring higher quality in the resulting wines. This was driven home to me last week with a old favourite course for dinner of fresh Dungeness crab. Often my chosen wine pairing is an aged Chablis Grand Cru or Premier Cru or Meursault Perrieres both of which work so well. This time for a Tuesday night thought why not try a simpler 2007 Riesling Trocken from Fritz Haag. What a revelation! Remember back when this top producer at Brauneberg in the Mosel sold basic dry Riesling in litre size bottles. Now they clearly are recognized as an outstanding Riesling producer. This 2007 wine in screw cap was so expressive of apple, peach and minerals. Appropriately dry but not Chablis-like instead showing a little sweetness of ripe fruit that complemented those same flavours in that delicious crab. An amazing ethereal match.
I am finally converted to a greater appreciation of top German Riesling trocken wines with some food dishes. Have you found one you really like?
---
You might also like:

Loading ...