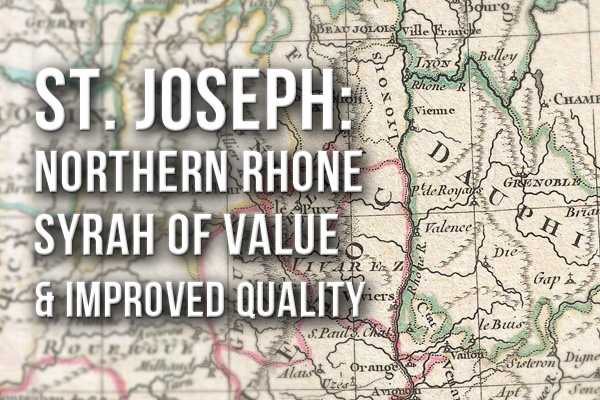 Over the past year one of our tasting groups has shone a bright spotlight on the Syrah variety from the Northern Rhone. Quite an amazing journey! We enjoyed several theme dinners with a focus on various vintages of the most key regions including Hermitage (consistent leader Chave & top vintages from Jaboulet of 1990 & 1978), Cote Rotie (expensive Guigal Cote-Rotie single vineyard La La wines & still under rated Jamet), Cornas (amazing A. Clape, more controversial Jean-Luc Colombo & lesser known Domaine Alain Voge) and even lesser applauded Crozes-Hermitage: though that 1978 Thalabert from the late great Gerard Jaboulet is still world class!
Most recently we looked at St. Joseph a large area of some 40 miles from north to south planted on diverse soils of flat loam to prized hillside granite. A region presently without a clear unanimous leader though Chapoutier Les Granites has been a long time favourite of Robert Parker. We tried blind quite a few St. Joseph wines ranging from the Co-op's special Esprit de Granite simpler aged 2006 to Chave's young structured 2006 & cool menthol 2005. Impressed that so many of the best were all from long time Rhone specialty importer Kermit Lynch Wine Merchant (www.kermitlynch.com) in Berkeley, California: 2012 Domaine Monier "Terre Blanche" surprising white pepper from 30+ year vines, almost herbal Hermitage-like 2009 Monier-Perreol, very purple fresh 2011 Pierre Gonon granite slopes old school partially de-stemmed breeding, and rich complex 2009 Domaine Faury from ripe S & SE sun facing slopes. Check out the write-ups on his impressive featured producers! Some others of interest in our event were SCEA La Tache 2010s Cuvee Guillamy & Cuvee Badel, and 2 surprising ringers from Le Vieux Pin (www.levieuxpin.ca) a floral oaky vanilla 2010 & a fragrant more animal 2008 that both showed well in this tough company.
My overall impression is that St. Joseph is an important region to watch (and to collect at still relatively fair values) now finding an identity with keen producers making their mark and leading the way in different styles of Syrah with riper fruit all of increasingly top quality. Who will emerge over the next decade as the clear leader of St Joseph? Have you tried some? Check it out.
---
You might also like:

Loading ...