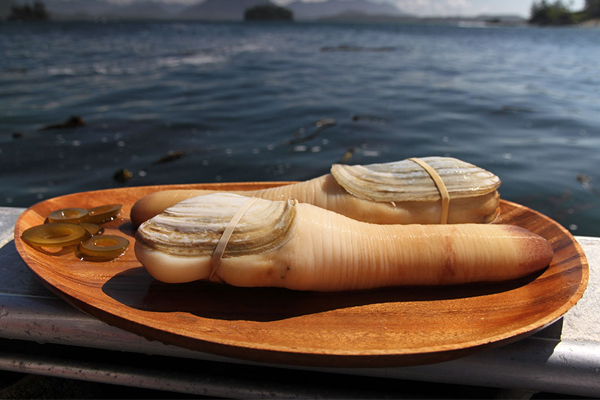 Image courtesy: www.geoduck.org

I have fond memories as a boy digging madly in the beach sands with the outgoing tide at Boundary Bay on the Canada/USA border to catch those elusive deep burrowing geoducks. What fun to catch such cherished buried treasures. Boy did they ever make the very best most flavourful clam chowder I have ever enjoyed! Today they are less commonly seen in the North American market and are recognized as a real delicacy. They have become so popular now in the Chinese community and most of the product is shipped live to Hong Kong and China as the "Elephant Trunk Clam". They are also increasingly used in Japan. They have become quite expensive but a small amount delivers a very special sea-fresh flavour from the sweet textured meaty neck (or siphon) making excellent raw sushi/sashimi or cook them slightly by stir fry/sauteed. Remember that the meat can toughen quickly if you overcook them.
The average size weighs in around one kilogram but they can live a very long time (over 150 years) with their growth rings measured on the oval shell (average length around 7-8 inches) like on a tree trunk. The industry on the Pacific Coast is well regulated and sustainable since the 1981 formation of Underwater Harvesters Association (UHA) representing and managing some 55 British Columbia commercial geoduck and horse clam licence holders. Since 1994 the UHA has started enhancing geoduck populations to ensure continuing long term success. They are harvested by divers with high pressure water jet hoses ("stinger") to loosen the substrate with minimal ocean floor environment disturbance. Annual allowable catch is very conservatively managed to maintain existing stocks.
You probably already have tried clams, oysters and other bivalves but have you treated yourself to geoduck? Seek it out.
More details, suppliers and recipes at www.geoduck.org.
---
You might also like:

Loading ...