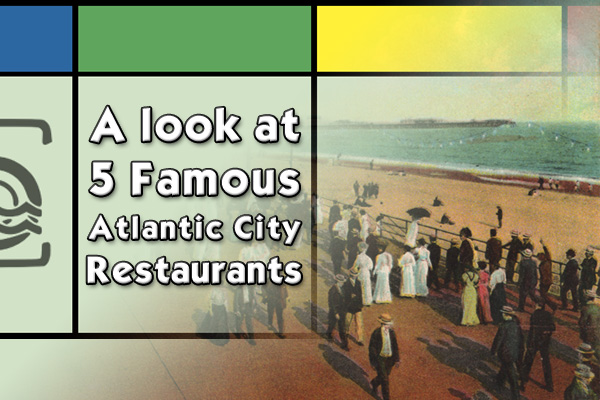 By Joseph Temple
From its humble beginnings as a small seaside village in the early nineteenth century to a powerful gambling mecca that dominated most of the 1980s, Atlantic City has seen many highs and lows as America's playground. Images of Victorian style architecture, Miss America pageants and a world famous Boardwalk where visitors could observe the sandy beaches from the comfort of a rolling chair all made "AC" the top tourist destination of the Roaring Twenties. But with railroads being replaced by inter-state highways and cheap airfare, the city fell on hard times as the conveniences of post-war suburbia made Atlantic City seem hopelessly outdated.
New Jersey residents however, would give their resort town a second wind in 1976 when they voted to allow legalized gambling in Atlantic City. With that decision, the shore's crumbling skyline was quickly replaced with lavish multi-billion dollar hotels and casinos, turning AC into the Las Vegas of the east coast. And unlike its competition that was tainted by the influence of organized crime, Atlantic City succeeded throughout the 80s with fresh faces that included real-estate mogul Donald Trump and a young pugilist named Mike Tyson who would have some of his biggest fights on the Jersey Shore.
Of course, beyond the bordellos, the carnival barkers and the casinos—both legal and illegal—there were also some outstanding restaurants, some of which are still in business to this day. So let's look at five famous joints (it's incredibly hard to name just five) that became part of Atlantic City's unique culture and identity.
---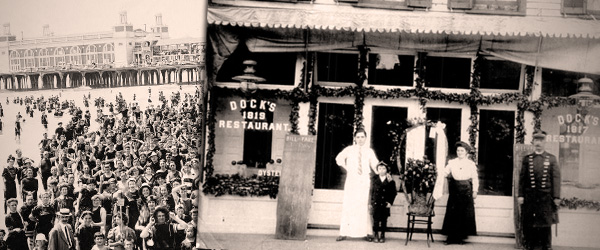 1. Dock's Oyster House
Featured on the fifth season of CNN's Parts Unknown, host Anthony Bourdain informs us that Dock's Oyster House is one of the few restaurants in Atlantic City to survive "Prohibition, the Depression, two world wars, numerous declines—and rebirths." Founded in 1897 by Harry "Dock" Dougherty when the popularity of oysters was at an all-time high, this classic seafood and steak restaurant is an Atlantic City institution with a wine list that has been recognized by the Wine Spectator. If you're looking to soak in some AC nostalgia, try the lobster tail, fried oysters or crabmeat au gratin—they have never left the menu since the day Dock's first opened its doors.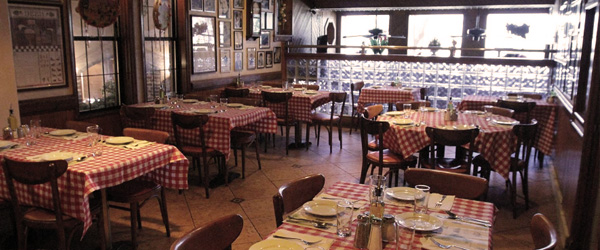 2. Angelo's Fairmount Tavern
Photo credit: www.angelosfairmounttavern.com
When talking about authentic cuisine from Atlantic City, it's impossible not to mention Italian food. In the late nineteenth century as laborers migrated north, mostly from neighboring Philadelphia, the town became much more ethnically diverse. Author Nelson Johnson, whose book inspired the HBO series Boardwalk Empire, writes, "Thousands of building tradesmen and laborers came to Atlantic City looking for work and many remained to make it their home … The Italians started local firms involving all the building trades and opened restaurants, food markets, and bakeries."
One of these restaurants, founded in 1935 when Atlantic City had more debt per capita than any other city during the Great Depression, was Angelo's Fairmount Tavern. Located on Fairmount Avenue near the convention center, this family-owned establishment is renowned for its Italian dishes served in larger-than-life portions, surrounded by an ambiance of sports memorabilia and framed photographs of its celebrity customers.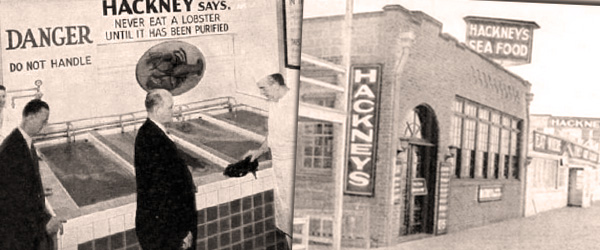 3. Hackney's Seafood Restaurant
Being right next to the ocean, it's no surprise that seafood became an integral part of AC. One of the city's first carnival barkers, "Captain" John Young, simply wowed tourists with a "deep sea net haul" that was lowered onto the floor of the pier, where Young would then try to name up to 50 different species to a working-class clientele that kept coming back for more every weekend.
Continuing this theme, Harry Hackney, also known as the "lobster king" turned a small lunch wagon that he used to serve clams into a gigantic seafood restaurant that ended up seating over 3,000 patrons. With the slogan "Eat Them Where They're Caught," supposedly coined by New York Governor Al Smith, Hackney proved to be a true marketing genius! Building a pier next to his restaurant, he would invite guests to fish for themselves and while inside, they could pick their own lobster from a pool he had built – a gimmick that proved to be enormously successful and is still with us today.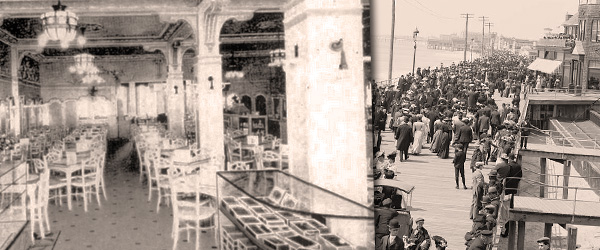 4. La Victoire Restaurant
During Atlantic City's most lucrative run in the early twentieth century, its hubris was a Boardwalk that blurred the lines between rich and poor. "The working class craved opportunities to participate in festive occasions and the Boardwalk gave them just such a chance," writes Johnson. "The Boardwalk created the illusion that everyone was part of a huge middle class parading to prosperity and social freedom. There were no class distinctions while strolling the Boardwalk; everyone was someone special."
One specific restaurant on this landmark strip that catered to throngs of working class vacationers was La Victoire. Owned by Harry Katz, it became one of the hottest spots on the Boardwalk with a special blue-plate platter that contained a number of different seafood items that included a half lobster—all for just $1.50!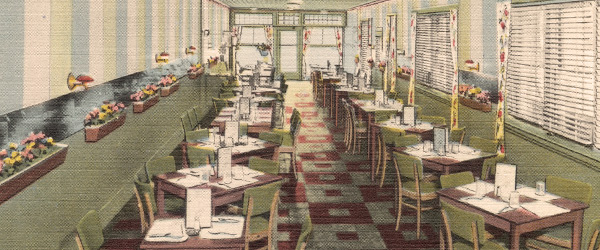 5. Wash and Sons' Seafood Restaurant
Without the arrival of African-American workers from the Upper South, the history of Atlantic City would have been very different. Actively seeking cheap labor to help build and sustain a tourist economy, the black population in AC would grow from just under 200 in 1870 to nearly 11,000 by 1915 – making this group close to 25% of the city's permanent residents and even more during the off season. Working in mostly menial jobs and with de facto segregation firmly in place, an area known as Northside took shape, becoming ground zero for the isolated African-American experience in Atlantic City.
And at 1702 Arctic Avenue in Northside, a popular spot for black hotel employees after a long day's work, was Wash and Sons' Seafood Restaurant, which began as a small sandwich shop in 1937. Recognized as the oldest black-owned establishment in Atlantic City, the restaurant catered to such stars as Red Foxx, Moms Mabley and Count Basie. Wash's granddaughter, Turiyah Raheem, describes the cultural impact writing: "Wash's probably employed at least one person from every black family in A.C. and became an unofficial social services agency by doing so. It was sometimes called the "black Cheers" — where everybody knew your name."
Sources:
Johnson, Nelson. Boardwalk Empire: The Birth, High Times and the Corruption of Atlantic City. London: Ebury Publishing, 2011.
Legato, Frank. Atlantic City: In Living Color. Macon: Indigo Custom Publishing, 2005.
Miller, Jen A. Explorer's Guide Jersey Shore: Atlantic City to Cape May: A Great Destination. New York: The Countryman Press, 2011.
Raheem, Turiya S. A. (2013, July 2). Wash's, Not Just a Business. Atlantic City Weekly. Retrieved from http://atlanticcityweekly.com
Ristine, James D. Atlantic City. Mount Pleasant: Arcadia Publishing, 2008.
Schnitzspahn, Karen L. Jersey Shore Food History: Victorian Feasts to Boardwalk Treats. Charleston: The History Press, 2012.
Sokolic, William H. &  Ruffalo, Robert E. Atlantic City Revisited. Mount Pleasant: Arcadia Publishing, 2006.
---
You might also like:

Loading ...