By Joseph Temple
In the spring of 1867, French emperor Napoleon III offered a warm welcome to dignitaries arriving from around the world to witness the Exposition Universelle. Held at the picturesque Champ de Mars over a period of eight months, enthusiastic Parisians of the Second French Empire gladly followed suit by embracing the nearly seven million visitors who travelled to a city that was modernizing at a rapid pace. And of the over fifty thousand exhibitors who set up shop, one group of Americans simply dazzled French citizens with a drink so unique that it spread like wildfire.
It was called a Sherry Cobbler.
A simple recipe consisting of sugar, muddled citrus and Spanish fortified wine, it became so popular that the U.S. delegation went through approximately five hundred bottles of sherry a day in order to serve up this concoction to a mostly French clientele. Of course, British visitors knew all about the drink after reading the serialized novel The Life and Adventures of Martin Chuzzlewit by Charles Dickens. After the main character describes the cocktail in glowing terms, its popularity soared throughout England, surprising another famous author Mark Twain. "And it warmed my heart more than, I can tell, yesterday, when I witnessed the spectacles of an Englishman, ordering an American sherry cobbler of his own free will and accord," described Twain. "With a common origin, a common language, a common literature, a common religion, and—common drinks, what is longer needful to the cementing of the two nations together in a permanent bond of brotherhood?"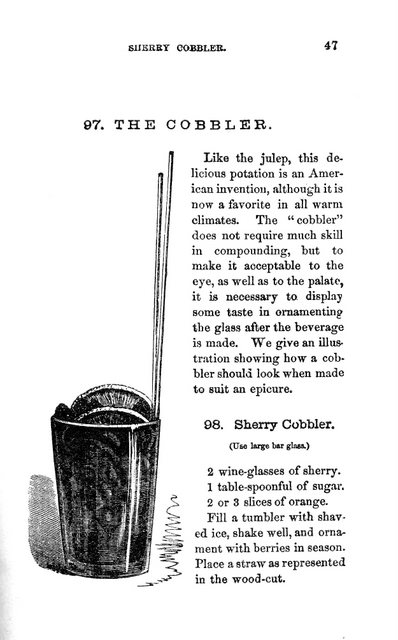 Recipe for a Sherry Cobbler from How to Mix Drinks by Jerry Thomas.
Invented sometime during the 1820s or 1830s, the Sherry Cobbler quickly democratized America's drinking habits, being consumed by a wide cross-section of the country. Listed in his now-famous 1862 book How to Mix Drinks, bartender Jerry Thomas writes that while the cobbler "does not require much skill in compounding … to make it acceptable to the eye, as well as to the palate, it is necessary to display some taste in ornamenting the glass after the beverage is made." Garnishing it with berries certainly didn't hurt its popularity but two essential elements that made it so trendy was shaking it with crushed ice—and topping it off with … a drinking straw.
Today, we see nothing special about adding ice to a drink, but in the early nineteenth century, before the commercial ice trade and mass refrigeration, frozen water was described by Mark Twain as "jewelry, none but the rich could wear it." Being such a novelty, it soon transcended classes. And being the first drink to popularize the straw, everyone from the upper class sherry drinker to the young college student could be seen sipping his or her ice-cold cobbler with this strange new device. What bartending legend Harry "The Dean" Johnson described as "without doubt the most popular beverage in the country" had bridged the gap between tavern and restaurant as the century came to a close.
So if you're looking to indulge yourself in a sweet slice of American nostalgia, have a look at the recipe below to make your very own Sherry Cobbler and party like it's 1839!
Sources:
Baiocchi, Talia. A Modern Guide to the Wine World's Best-Kept Secret, with Cocktails and Recipes. Berkeley: Ten Speed Press, 2014.
Beazley, Mitchell. GQ Drinks. Octopus, 2014.
Twain, Mark. Mark Twain's Speeches: Easyread Super Large 18pt Edition. Sydney: ReadHowYouWant.com, 2008.
---
You might also like:

Loading ...