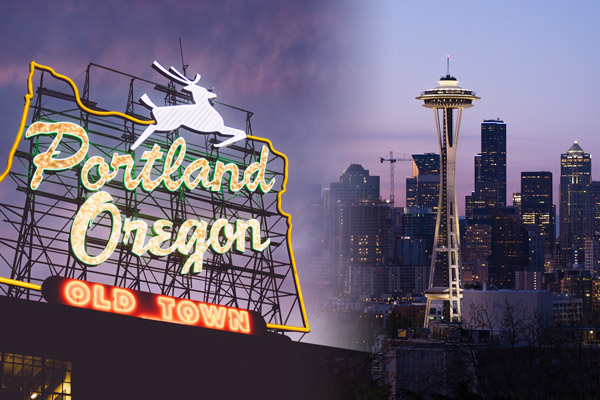 Just returned from an interesting food and wine update week in Washington & Oregon. Our very weak Canadian dollar sure has an impact on prices outside the country. Encourage all the tourists out there to plan a visit to Canada in 2016 to take advantage of this currency value situation. A few dining recommendations in Seattle & Portland:
SEATTLE: Pike Place Market is always a draw. Some good casual lunch spots there including fresh soup and panini at Michou Deli or quality Italian items at DeLaurenti. Elsewhere check out Bitter/Raw the new upstairs Bar at Lark Restaurant for an aperitif with innovative charcuterie, crudo, oysters, and cheese selections. I liked their Popcorn with Parmigiano Reggiano, Truffle Salted Sunchoke Chips, and Roasted Eel.
I highly recommend Trattoria CASCINA SPINASSE (spinasse.com) 1531 14th on Capitol Hill, Telephone 206 251 7673 (and their Artusi Bar artusibar.com next door):
It first opened in late 2008 immediately winning the Seattle Magazine's Best New Restaurant of the Year under then Chef Jason Stratton. I was fortunate to attend those Awards and enjoyed dining there for the first time in 2009. However it continues today with even more amazing top Italian cuisine bringing it to new heights by talented Chef Stuart Lane and crew. Chef Lane has an impressive bio including Café Juanita and culinary experience in Emilia-Romagna. Outstanding handmade in-house pasta include Tajarin with either butter and sage or Ragu, Mezzaluna of moist roasted butternut squash with toasted almonds, rosemary and Parmigiano, and Agnolotti filled with veal, pork, and beef + marjoram & Parmigiano. My dish of the year might be the magical so delicious Roasted Cipollini Onions stuffed with sausage & Braised Fennel!  Innovative mains like Pan Roasted Rabbit Meatballs with Polenta & Pickled Horseradish. Get a reservation!
PORTLAND: Still a consumer's delight with no State sales tax imposed. Hot Tip: Amazing salt selection at Jacobsen Salt Co. (jacobsensalt.com) including our fav of Gold Label Black Garlic Salt 4 oz. for $14. Value lunch sandwiches at J Café 533 NE Holladay (near the Lloyd Centre) owned by super host with my namesake Jonathan Cross. The South East region is hot and trendy especially along SE Division Street. Lots of breweries and Happy Hour beer specials. Bar Avignon at 2138 has fresh Heather Allen Sandy Paws Dark Lager & Double Mountain Stout and informal value food items including smoked pork cheek and mushroom risotto. Pinolo Gelateria at 3707 has authentic Tuscan hazelnut gelato.
Recommend Portland Wine Merchants 1430 SE 35th Avenue off Hawthorne with owner Rory so knowledgeable and fun discussing with him our mutual wine buying experiences at cheap prices (1959 Ch. Suduiraut) during the 1980s at Connoisseur Wine Imports in San Francisco where he was then working. Great values at his store for Willamette Valley pinot noirs from Medici Vineyards (2004, 2006, and ripe 2008 all $24.95) and Delinea label of 2013 Sokol Blosser $19.95.
I highly recommend AVA GENE'S (www.avagenes.com and @AvaGenes on Twitter) Italian restaurant 3377 SE Division Telephone: 971 229 0571:
Wonderful extensive list of Italian wines at fair prices. Even feature top Frank Cornelisson wines from Mt Etna in Sicily and value 2010 Aglianico del Vulture from Carmelitano Serra Del Prete in Basilicata for $38. Open Food Kitchen and enthusiastic service is really excellent. Highlights included Burrata, Dates, Marmellata Squash, and Nuts; Sagna Riccia with Chicken Ragu & Chestnuts; Lamb, Cecis, Mushrooms, Tomato, Pine Nuts, Mint; and a Family Style Platter $50 (would feed 4 but we sampled for 2) of slow cooked succulent Pork Shoulder, Pistachio, Fennel, Olives, Citrus, and Nduja (spicy pork sausage).
What are your top spots in Seattle & Portland?
---
You might also like:

Loading ...