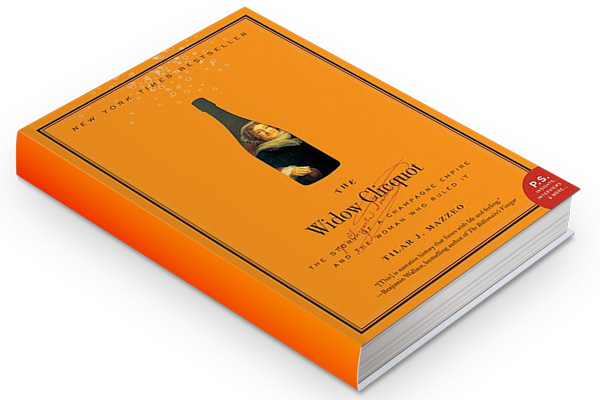 By Joseph Temple
With a bright and distinctive label that catches your eye immediately, Veuve Clicquot Ponsardin is world-renowned for producing some of the finest bubbles on earth. Founded in 1772, it would take more than forty grueling years before its legacy became etched in stone as the preferred champagne house of kings and queens following a legendary 'Comet vintage' in 1811. Surviving both crippling trade barriers and a Russian army occupying its terroir, one woman bravely stood at the helm during this uncertain era and would eventually lead her company to unparalleled prosperity. Her name was Barbe-Nicole Clicquot Ponsardin, a grieving widow that went on to become one of the most successful businesswomen in history.
That is the subject of The Widow Clicquot: The Story of a Champagne Empire and the Woman Who Ruled It by historian Tilar J. Mazzeo. Published in 2008, the author paints a fascinating picture of both Ponsardin and the ordeals she went through in order to make her massive fortune. After the death of husband François Clicquot, Barbe-Nicole was allowed to freely pursue her passion for winemaking, a right that few French women in the early nineteenth century enjoyed. "Under the laws of the Napoleonic Code, a married businesswoman had a shadowy legal existence," writes Mazzeo. "According to statute, a woman entrepreneur could not defend even a simple contract without her husband's permission. But as a widow—and especially as a recognized public trader—Barbe-Nicole could make her own decisions."
But as head of a champagne house during the First French Empire, Ponsardin was held hostage to the wars being waged by Napoleon Bonaparte. With a blockade imposed by the powerful British Navy on French exports and a mercantile system at home, finding new markets for Veuve Clicquot champagne became almost next to impossible in this harsh economic climate. Having to find creative ways, both legal and illegal to ship her wine, Barbe-Nicole decided to roll the dice with a move that would either make or break her. Entrepreneurs who understand the enormous risks that need to be taken in order to strike it rich will definitely enjoy the chapters dealing with Ponsardin's challenges and her eventual triumph.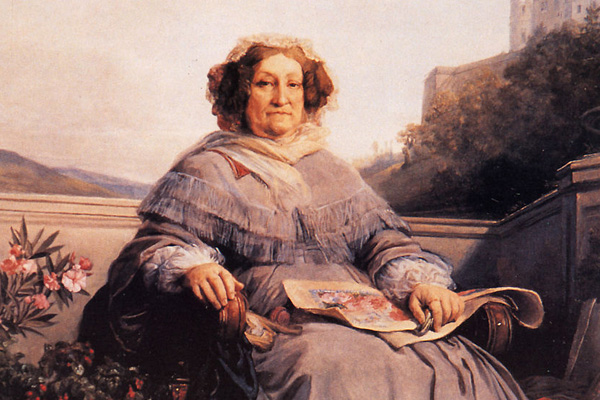 Madame Clicquot Ponsardin
Additionally, one of the book's greatest strengths is the dichotomy shown during that time and the present. While today we take trade and commerce that is largely uninterrupted for granted, Ponsardin and her fellow champagne makers were at the mercy of blockades—shipping their product as contraband was sometimes the only option. And being occupied by a foreign power is something few vintners today will have to go through.
To her credit, Ponsardin didn't see Russian soldiers so much as invaders but as future customers. Bringing back their thirst for bubbly, Veuve Clicquot used that buzz to dominate the lucrative markets in Moscow and Saint Petersburg, which may come as a surprise to many who have viewed Britain and France as the two historic hotspots for champagne. Describing this Russian frenzy, Mazzeo writes: "Those same aristocratic officers who had come to love her wine during the occupation of Reims were now prepared to buy her champagne at any price. Soon, Czar Alexander declared that he would drink nothing else. Everywhere one heard the name of the Widow Clicquot and praises for her divine champagne."
Keeping Veuve Clicquot one-step ahead of the competition, Ponsardin created the system known as riddling or remuage, where the bottles are turned periodically in order to move the sediment towards the cork. Again, Mazzeo provides us with great context in showing the stark differences in how champagne was made back then and how it's made today. Dealing with mostly sweet tasting vintages packaged in uneven sized bottles that could easily explode in your hands, winemaking was truly a labor of love where none of the scientific advances that the Champenois enjoy today were at Ponsardin's disposal. Although the technique of riddling is still with us after two hundred years, comparing the past to the present seems almost like night and day.
Whether your interest is in viticulture, history, marketing or economics, there is something for everyone in The Widow Clicquot. By focusing on this amazing story full of twists and turns that is meticulously researched, Mazzeo makes sure that the next time you see that famous yellow-orange label at the next soiree, you'll have an arsenal of anecdotes to impress your friends as you sip this famous champagne!
---
You might also like:

Loading ...