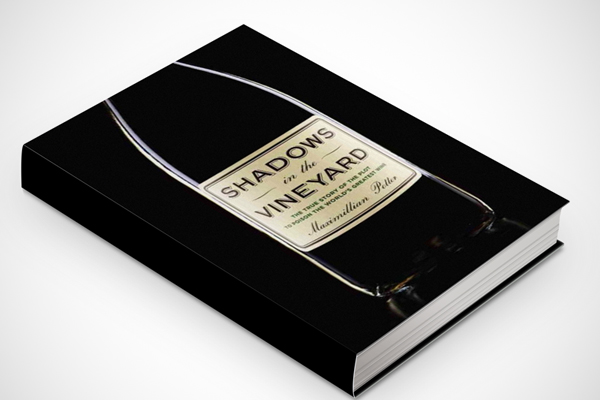 By Joseph Temple
For those who want to learn more about wine, finding the right book can be a bit tricky. Of course, there's always the latest edition of Wine for Dummies from which you can try to memorize all the interesting facts and figures. Or, if you want a more academic perspective, there are plenty of studies and peer-reviewed journal articles dealing with how the changing climate is affecting terroir from Bordeaux to Napa. But perhaps the best way to soak in winemaking's rich and colorful past is through the lens of narrative nonfiction.
Back in 2008, author Benjamin Wallace received widespread critical acclaim for writing about a series of fraudulent bottles supposedly owned by Thomas Jefferson in The Billionaire's Vinegar. Detailing one of the greatest scandals in the history of wine, Wallace's thrilling story, which reads more like a detective novel, is now the subject of an upcoming motion picture starring actor Matthew McConaughey. And carrying on this irresistible blend of viticulture mixed with true crime is Shadows in the Vineyard: The True Story of the Plot to Poison the World's Greatest Wine by Maximillian Potter.
Published in 2014, the story begins in Burgundy where the holy grail for wine collectors exists on just 4.46 acres of land in the sub region of Côte de Nuits. Romanée-Conti, a grand cru known around the world for its pinot noir is consistently ranked as one of the top wines in the world—just one bottle of a recent vintage sells for approximately $10,000. Headed by Aubert de Villaine, the stoic patriarch of the Domaine de la Romanée-Conti estate, he is known by his employees simply as the Grand Monsieur. As a fellow vigneron from a nearby vineyard tells the author, "Learning wine from him, you must realize, this is like learning physics from Einstein."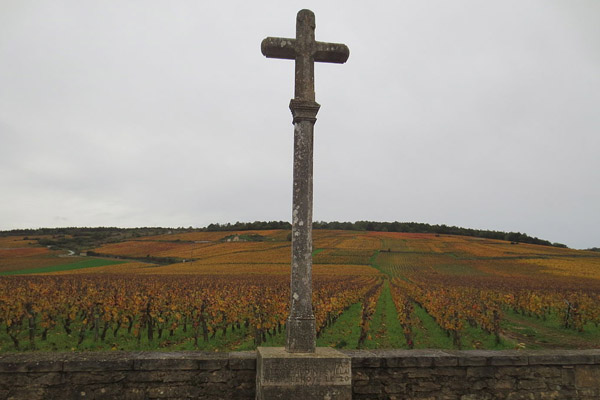 La Romanée-Conti
By Arnaud 25 (Own work) [CC BY-SA 3.0], via Wikimedia Commons
However, by owning one of the most valuable pieces of real estate on earth, de Villaine became a prime target for extortion. Receiving a threatening note in the mail, he is informed that certain vines at Romanée-Conti have been booby-trapped with poisonous substances drilled into the soil by the culprit over a period of several nights. If a ransom is not paid, the poison will be released as the sap rises and his vineyard will be destroyed, ruining the reputation that DRC has built for centuries.
Unfortunately for the extortionist, he fails to realize that an attack on such a prestigious vineyard is viewed as an attack on French culture as a whole. Detectives working on the case make sure that no stone is left unturned until the suspect is brought to justice and faces the full extent of the law. Fans of the true crime genre will simply devour this game of cat and mouse as police set a trap that hopefully catches what they believe is a criminal mastermind.
In between details of the investigation, we learn all about DRC, Burgundy and the history of wine as Potter describes de Villaine's personal journey back to his family-owned vineyard. Being part of some of the industry's biggest moments, including the Judgment of Paris, we read not only about these major events but also why the Grand Monsieur is so respected by oenophiles worldwide. Through a rich history full of fascinating anecdotes, you quickly see why this crime was seen as an attack against French heritage, of which wine is deeply embedded into their collective DNA.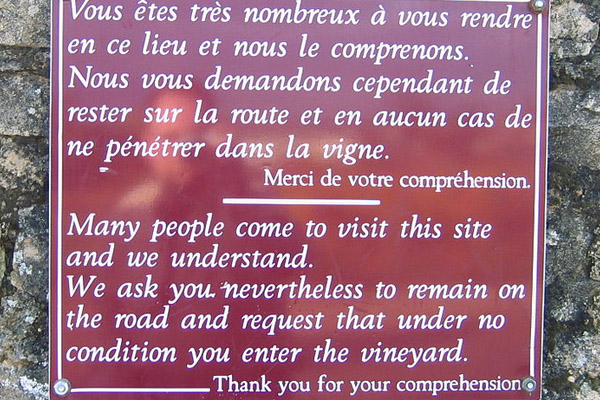 Sign outside Romanée-Conti
By Tomas er (Own work) [CC BY-SA 3.0 or GFDL], via Wikimedia Commons
Of course, this is one of the book's greatest strengths. Using this 2010 crime as the hook, both seasoned aficionados and newbies to the world of wine will actually learn so much about the subject. Whether it's the négociant system once used by French wine merchants (that resulted in enormous fraud long before any Jefferson bottles were put on the auction block), or Burgundy's current classification system being based in part by the writings of Cistercian monks who cultivated the land for centuries, there is a treasure trove of useful information in Potter's book. And by weaving it into the story of what took place just a few years ago, casual wine drinkers eager to learn more about the topic will absorb the content quicker than reading fact books that feel more like dry encyclopedias.
---
You might also like:

Loading ...