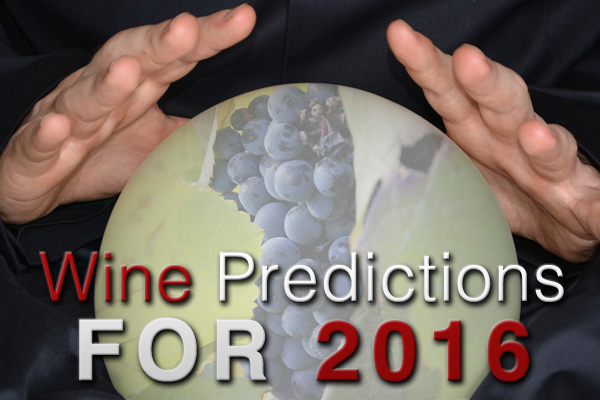 By Joseph Temple
Happy New Year!
As we get ready for a decisive 2016 that includes the election of our 45th president, a Summer Olympics in Rio de Janeiro and NASA launching a spacecraft to the planet Jupiter, we can only guess what will happen this year in the ever-changing world of wine. What fashionable grape variety will oenophiles drink as they cast their ballots in November? What wine region will become uber-trendy as people from around the world watch the games in Brazil? Well, let's break out our crystal balls as we try to predict five wine trends for 2016.
---

Back in November, we wrote about the meteoric rise of English sparkling wine, which has gone from an oxymoron to a smash hit in a relatively short amount of time. "It is an industry which has huge potential and is proving to be one of the new faces of modern British agriculture," according to Miles Beale of the UK's Wine and Spirit Trade Association. With some producers showing a staggering 300% increase in annual sales, French Champagne maker Tattinger decided to get in on the act when it bought land in the bubbly-making hotspot of Kent. So expect British fizz to have a landmark year in 2016 with it appearing more frequently on wine lists and being more readily available at your local shop.

Last year, this blog discussed the growing impact of the millennial generation in terms of wine consumption as ten thousand of them turn 21 every single day. And one crucial difference between this group and their baby boomer parents is that 85% of millennials said they like to purchase unfamiliar brands from less traditional wine growing regions (at an affordable price, of course). So be prepared to see a greater democratization of wine in 2016 as millennials plant their flag as the dominant demographic.

In a previous era, if you ever decided to purchase wine by the glass, it was always a good idea to ask the waiter how long the bottle had been sitting around uncorked. But with more restaurants adopting the groundbreaking Coravin system, allowing you to pour a glass without uncorking the bottle, get ready to see a greater variety of wines to choose from when ordering by the glass at your favorite restaurant!

Ever since the market crashed in 2008, Prosecco has grown by leaps and bounds as a cost-friendly alternative to Champagne. Peaking in 2013 when it outsold its French competitors for the first time ever, many now believe that this sparkling wine is about to experience some unpleasant growing pains. With demand topping supply for premium bottles usually labeled DOCG, consumers seeking finer fizz may start to move away from this Italian bubbly towards Limoux or premium Cava.

Once considered a niche product for hipsters, natural wine – which is defined by one importer as wine "made with the least possible use of chemicals, additives and overly technological procedures" – is about to enter the mainstream in 2016. With improving quality and a greater interest in artisanal products, more sommeliers, according to Bloomberg, are expected to add these wines to their lists in 2016.
Sources:
Bernhardt, Anastasia. (2015, December). Wine Trends To Look Out For in 2016. Country and Town House. Retrieved from http://countryandtownhouse.co.uk.
Holland, Laura. (2015, December 30). English sparkling wine's corker year. Express. Retrieved from http://www.express.co.uk.
McCoy, Elin. (2015, December 30). Eight Ways the Wine World Will Change in 2016. SwissInfo. Retrieved from http://swissinfo.ch.
What is Natural Wine?. Jenny & François Selections. Retrieved from http://jennyandfrancois.com.
---
You might also like:

Loading ...