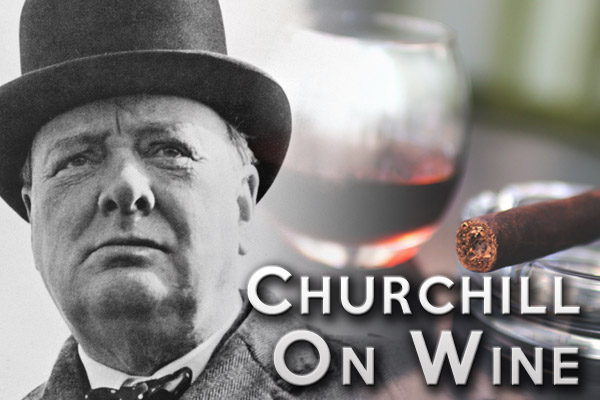 By Joseph Temple
More than fifty years after his death, Winston Churchill, the larger-than-life prime minister who changed the entire course of the Second World War still galvanizes us with his words and his deeds. From the famous battle cries in 1940 to his prophetic Iron Curtain speech, very few leaders have possessed Churchill's oratorical skills, which is why he continues to fascinate scholars and historians to this day. With a tremendous gift for the spoken word, no book of famous quotes is complete without at least a couple from this iconic British leader. Whether the subject is success, failure or socialism, Churchill can provide inspiration to future generations with a plethora of pithy observations.
Of course, anyone who has studied the man knows that when it came to alcoholic beverages, the prime minister was never one to abstain. Along with allegedly smoking up to ten cigars a day, he also became infamous for his drinking habits, which included a love for spirits—and only the finest wines from France to Bulgaria. So it's not surprising that he would have a few things to say about one of his favorite libations. "In wine there is wisdom," noted Churchill. "In water, there are germs."
One specific wine that England's great wartime leader could never go without was champagne. Drinking his first glass of Pol Roger in 1908 as a young cabinet minister, Churchill quickly made it his preferred brand and even named one of his racehorses after what he called "the world's most drinkable address." Considering the 1928 vintage to be the very best, Odette Pol-Roger, the grand dame of this champagne house gladly sent a case to the PM every single year as a birthday present. And following his death in 1965, all bottles shipped to the United Kingdom contained a black border on the label to mourn Churchill's passing. With this sort of affinity, was it any surprise that he invoked the region when telling soldiers "Remember gentleman, it's not just France we are fighting for, it's Champagne!"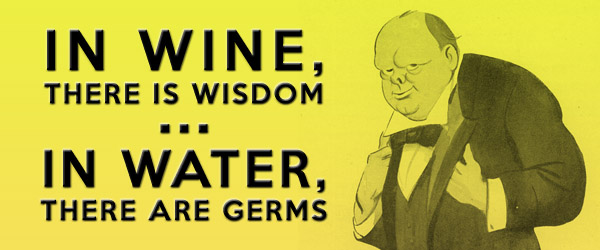 In terms of dollars and cents, Peter Clarke in his book Mr Churchill's Profession offers us some staggering insight into how much was spent on such a guilty pleasure. "In 1935 Churchill's bills show four hundred pounds for wines and spirits supplied to Chartwell and just over one hundred for Morpeth Mansions, the Churchills' London flat," writes Clarke. "The total was thus £515, or ten pounds a week—about three times the earnings of a male manual worker at the time, or enough to employ half a dozen female domestic servants at Chartwell."
With this sort-of unquenchable thirst, whenever Churchill decided to go abroad, he never traveled light—or dry! Before entering politics, the future prime minister would work as a correspondent for The Morning Post covering the Boer War. Of course, from his past experiences in Cuba and India, he made sure this trip was a well-lubricated affair by following the old Boy Scout motto of being prepared. Days before his departure to South Africa, Churchill placed an order that included six bottles of champagne, eighteen bottles of wine and another eighteen of ten-year old scotch. "When traveling to a potential war zone, one had to bring along creature comforts," wrote author Simon Read.
And as England's leader, Churchill was never timid when asking for these comforts either. One interesting story dates back to December of 1941 when as a guest of President Franklin Roosevelt, the prime minister was invited to spend the Christmas holidays at the White House, where the two leaders would plan out their strategy for the wars in Europe and the Pacific. Speaking to butler Alonzo Fields, Churchill gave an explicit order during his stay at 1600 Pennsylvania Avenue. "I must have a tumbler of sherry in my room before breakfast, a couple glasses of scotch and soda before lunch and French champagne and 90 year old brandy before I go to sleep at night," demanded Churchill at a time when rationing was about to come into effect across the United States.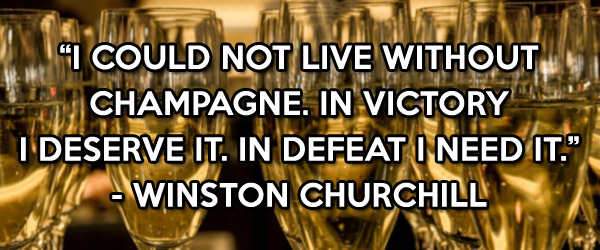 In today's world, these drinking habits would no doubt result in several whisper campaigns and quite a few calls for the leader's resignation. But it's interesting to note how unapologetic Churchill was when confronted by both his friends and enemies about this subject. When General Montgomery said, "I don't drink or smoke and I'm one hundred percent fit," the PM told him "Well I smoke and drink and I'm two hundred percent fit." Or the time when accused by a fellow MP of being "disgustingly drunk," Churchill fired back by saying "My dear you are ugly, but tomorrow I shall be sober and you will still be ugly." Very few could match his wit—drunk or sober from before the Gathering Storm to after Triumph and Tragedy.
Across the world, streets have been named and statues erected in Winston Churchill's honor. But in terms of wine, the greatest tribute came in 1975 with the introduction of Cuvee Sir Winston Churchill by Pol Roger, a blend that is "one of immense character, a robust structure of maturity and great class." After all, as one of England's most revered leaders, Churchill always told us that when it came to wine, his tastes were simple: "I am easily satisfied with the very best."
Sources:
Button, Roddy & Oliver, Mike. Wine – 101 Truths, Myths and Legends. Luton: Andrews UK Limited, 2013.
Clarke, Peter. Mr. Churchill's Profession. London: A&C Black, 2013.
Goodwin, Doris Kearns. No Ordinary Time: Franklin & Eleanor Roosevelt: The Home Front in World War II. New York: Simon & Schuster, 2013.
Hammond, Carolyn. 1000 Best Wine Secrets. Naperville: Sourcebooks Inc., 2006.
MacNeil, Karen. The Wine Bible. New York: Workman Publishing, 2015.
Paterson, Michael. Winston Churchill: Personal Accounts of the Great Leader at War. Newton Abbot: David & Charles, 2005.
Read, Simon. Winston Churchill Reporting: Adventures of a Young War Correspondent. Cambridge: De Capo Press, 2015.
Vine, Richard. The Curious World of Wine: Facts, Legends, and Lore About the Drink We Love So Much. New York: Penguin, 2012.
Watkins, Richard & Deliso, Christopher. Bulgaria. Ediz. Inglese. Oakland: Lonely Planet, 2008.
---
You might also like: