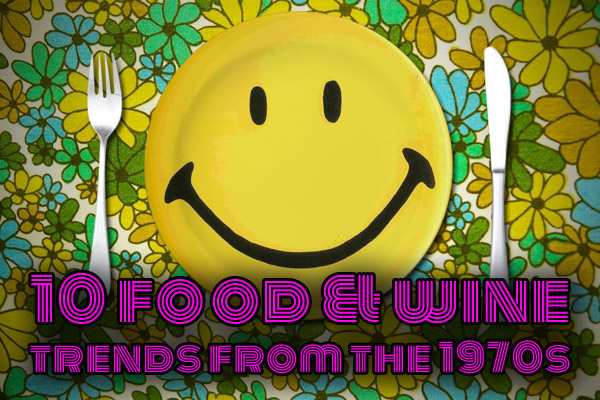 By Joseph Temple
Over this past summer, CNN aired The Seventies, an eight-part documentary series that dissected some of the most important events from this tumultuous decade.  Unfortunately, with Watergate, disco, the ERA, stagflation and a host of other topics placed under the microscope, the subject of food and wine was completely overlooked. Like, didn't people eat anything before watching All in the Family and MASH? Did the staggering crime rates keep everyone from going out to a restaurant and having a glass of wine with dinner? Tom Hanks, one of the series' executive producers really missed the boat by not highlighting some of the major culinary trends of this era. So as an addendum, here's the skinny on ten food and wine crazes that helped to shape the "Me Decade."
And if you have any fond memories from this era, please share them in the comments section below.
Catch you on the flip side!
---

1. Fondue
If you were a foodie in the 70s, then you'll definitely remember the time you invited all your friends and family over for a far out fondue party! Before it became a staple on the garage sale circuit, fondue makers experienced an explosion in popularity and quickly became the must-have gift for millions of brides-to-be. Whether it was cheese or chocolate, cookbook author Rhonda Lauret Parkinson explains its appeal then and now: "There is something infinitely satisfying about gathering together around a communal dish to enjoy a meal. Not to mention the fact that everyone can cook the food according to his or her own preference."
blank

2.

Mateus Rosé
One of Portugal's most popular exports, Mateus Rosé, with it's instantly recognizable squat bottle design became the preferred wine for millions of Americans throughout the 70s. Along with lava lamps and shag rugs, a house party wasn't complete until someone opened a bottle of this sweet tasting libation. Describing the brilliant marketing campaign conducted by Fernando van Zeller Guedes, wine writers Michael Bywater and Kathleen Burk explain, "He [Guedes] was, in a sense, trying to scoop up the beer drinkers from one side and the soda drinkers from the other. And he succeeded. Mateus Rosé achieved an almost unheard-of brand recognition, and this before the days of sophisticated demographics, computerized market research, or any of the other tricks of twenty-first century branding."
blank

3. Quiche
In 1963, culinary goddess Julia Child showed viewers how to make a standard Quiche Lorraine on an episode of her iconic show The French Chef. Less than a decade later, variations of the dish would flourish in kitchens across America. Symbolizing the freewheeling spirit of the 70s, nothing was off limits when it came to quiche. "Standard Quiche Lorraine became boring, as restaurants and cooks experimented with every type of quiche, from leek and anchovy to moussaka quiche with eggplant, tomatoes, onion, and lamb," wrote Sherri Liberman.
blank

4. White Zinfandel
Today, many oenophiles scoff at the idea of drinking White Zinfandel. But back in the 70s, there was no denying its phenomenal success, especially the blend accidentally created by Bob Trinchero at the Sutter Home Winery in St. Helena. According to the winemaker, in 1975, nearly "1,000 gallons of red Zinfandel refused to ferment to dryness, "sticking" with a substantial amount of sugar left in it … Two weeks later, I tasted that wine and it was sweet, had a pink color … We bottled it, and the rest is history." And by 1987, the first year that varietal wines outsold jug products in America, white Zinfandel had the largest market share with 28 percent and over 2.5 million cases sold.
blank

5. Crock-pots & Microwaves
As more women entered the labor force in the 1970s, just to keep up with the increased cost of living, it was estimated that a wife with kids worked approximately fifteen more hours per week than her husband. To ease this enormous burden, new labor-saving appliances were beginning to phase out the traditional home-cooked meals across suburbia. One of these inventions, known as the crock-pot allowed families to enjoy a tender and tasty meal from something they quickly put together before heading out in the morning. And in addition to this slow cooker, the microwave became mainstream, giving people the option of nuking their leftovers and TV dinners in mere seconds. Overworked and stressed out from all the decade's troubles, convenience now reigned supreme.
blank

6. Sunday Brunch
"You do not eat brunch. You do brunch," wrote Ira Krasnow in the Chicago Tribune. A cherished ritual symbolizing how much Americans valued their free time, "doing" brunch on a late Sunday morning was one of the most rewarding activities to engage in after a chaotic work week. Whether it was orange juice or a Bloody Mary you drank with your Eggs Benedict, the casual and stress-free atmosphere became almost therapeutic for millions of families struggling with the uncertainty synonymous with the 70s. Explaining how the "anything-goes" meal became a metaphor, Krasnow writes, "With the loosening of Sunday's rigid schedule of church and dinner, a relaxed and informal brunch is a reflection of this freedom … And maybe because anything goes, people adore it."
blank
7. Salad Bars
With a greater demand for convenience, it was no surprise that fast-food chains expanded rapidly during the 1970s. But as they grew in size, many health advocates worried about the kinds of food being served at these restaurants, which usually contained high amounts of cholesterol. So to show the public that they too were concerned about growing waistlines, a new concept was unveiled—the salad bar! Originally invented in 1971 at R.J. Grunt's in Chicago, these bars, usually featuring dark wood paneling and brass fixtures, offered what appeared to be a nutritious alternative to greasy hamburgers and french fries. Unfortunately, with toppings that included artificial bacon bits and ranch salad dressing, the health benefits could be few and far between.
blank

8. Pasta Primavera
Making its debut at the uber-trendy Le Cirque restaurant in New York City, pasta primavera, consisting of noodles mixed with an assortment of vegetables quickly became one of the decades most ordered meals. Described by one food critic as a "death match between French and Italian cuisine," what was originally intended as a seasonal dish (Primavera means springtime) had a revolutionary effect on the way Americans viewed Italian food. David Kamp in his book The United States of Arugula states, "The very fact that a pasta dish could get attention at a French restaurant, and that Americans were willing to veer away from their old red-sauce preconceptions of spaghetti, augured well for Italian cooking in the United States."
blank

9. Sauces & Dressings
Whether it was steak, fish or salad on the dinner table, you could always count on one thing: a steady stream of sauces and dressings for you to smother on top of your food. With so many health-conscious Americans these days, it's easy to forget just how fashionable it once was to drench your salad with Hidden Valley Original Ranch dressing before pouring Hollandaise on your Eggs Benedict. Of course, with all these rich and heavy foods that certainly clogged up plenty of arteries by the end of the decade, it was only logical that a counter-movement, emphasizing "low-fat" and nutritious alternatives would gain steam with consumers as the 1980s began.
blank

10. Judgment of Paris
To celebrate America's Bicentennial, a blind tasting was organized in the city of Paris by British wine merchant Steven Spurrier. With the best wines from France and California squaring off, it was assumed that the latter, known for producing mostly "cooked" bottles that were extremely high in alcohol, would easily go down in defeat. But just as Rocky Balboa that year shocked the world in his fight against Apollo Creed, America would score a huge upset by beating the French in a tasting that became a watershed event, known as the Judgment of Paris. From that moment on, California became a major player in wine circles around the world.
blank
Sources:
Bywater, Michael & Burk, Kathleen. Is This Bottle Corked?: The Secret Life of Wine. New York: Harmony Books, 2008.
Hesser, Amanda. The Essential New York Times Cookbook: Classic Recipes for a New Century. New York: W.W. Norton & Company, Inc., 2010.
Kamp, David. The United States of Arugula: How We Became a Gourmet Nation. New York: Broadway Books, 2006.
Liberman, Sherri. American Food by the Decades. Santa Barbara: Greenwood Publishing, 2011.
Murphy, Linda. (2003, July 3). White Zinfandel, now 30, once ruled the U.S. wine world / The wine snobs won't touch it, but that's their loss. San Francisco Gate. Retrieved from http://sfgate.com.
Parkinson, Rhonda Lauret. The Everything Fondue Cookbook: 300 Creative Ideas for Any Occasion. Avon: F&W Publications, 2004.
Patterson, James T. Restless Giant: The United States from Watergate to Bush v. Gore. New York: Oxford University Press Inc., 2005.
Ternikar, Fahra. Brunch: A History. Lanham: Rowman & Littlefield, 2014.
---
You might also like:

Loading ...