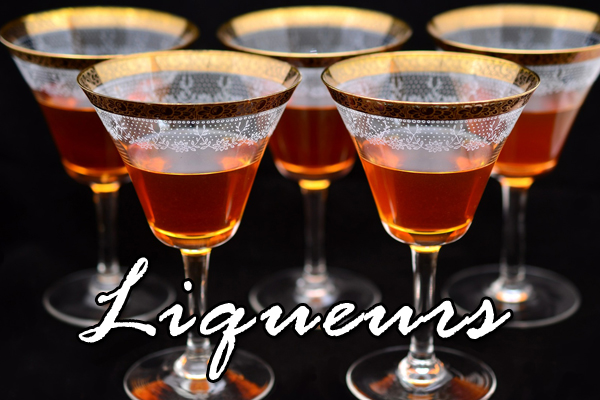 Liqueurs have been around for a long time. They are again becoming quite popular because of their prominent use for the expanding cocktail business. It often is difficult to get an exact recipe for a liqueur because the producers prefer to keep them secret. The 3 main components are spirit, sweetening and flavouring. Drambuie from Scotland has a base of whisky but others may use a base of brandy – Cherry Brandy (or cognac – Grand Marnier), rum (Tia Maria) or even ordinary spirit. Sweetening is usually by the addition of sugar or honey. Flavouring is the key part by using a method of either distillation ("hot" heated through a still and normally colour added) or infusion ("cold" extracted by the alcohol soak and filtered) and the results can be quite complex. The main flavouring groups which you should be familiar with include these:
– Fruit Liqueurs: Fruit dominates. So many flavours from orange, mandarin, apricot, cherry, blackberry … eg. Maraschino
– Herb Liqueurs: Herb dominates. Mint, caraway, cinnamon, clove, sage, anise, marjoram … eg. Benedictine, Chartreuse, Crème de Menthe
– Citrus Peel Liqueurs: Citrus fruit rind dominates. Mostly lemon or orange  … eg. Cointreau, Grand Marnier, Curacao
– Kernel Liqueurs: Use of kernels or beans dominates. Pits of peach or apricot, beans of vanilla, coffee, chocolate … eg. Crème de Cacao
Which liqueur do you prefer?
---
You might also like:

Loading ...