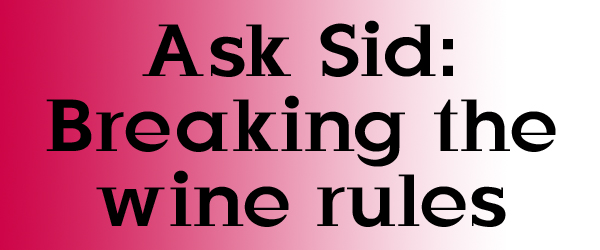 Question:  I am planning an IWFS event where the theme will be: Breaking all the wine rules.  These rules will include:
– White before red. Any suggestions for a good starter red? Answer: Try Rose or Gamay.
– White only with fish.
– White with red meat. Not sure what white would go well with what kind of red meat.
Answer: Try Riesling with Pork, Veal, or Wiener Schnitzel. A big full mature white Burgundy can work with simpler red meat dishes especially beef.
– Sweet wine at the end. I've read somewhere the Victorians liked to start a meal with Sauternes and foie gras. Not sure if that was an hors d'oeuvre or a sit down starting course.
Answer: Sauternes is a perfect aperitif!
– No wine with asparagus or artichokes. Sauvignon Blanc or Alsatian Muscat goes with either.
My question:   Can you think of any more wine rules we might break?
Answer: Andre Simon always said "Grapefruit, like all citrus fruits, is constitutionally unsuited to be the partner of any wine". However he suggested a plainer Sherry of medium sweetness might work! Find the best wine match for citrus fruits.
---
You might also like:

Loading ...