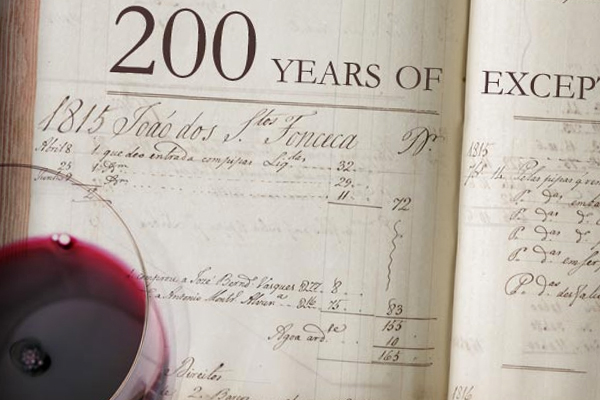 The first evidence of the Fonseca (www.fonseca.pt) firm trading in Port is an entry dated April 8, 1815. Now 200 years later they are a preeminent house with many historic outstanding vintage ports including the 1927, 1945, 1948, 1955, 1963, the surprising 1966, 1977, 1985 (note no vintage for 7 years later in 1992), and 1994 among others. The 6th generation carries on with David Guimaraens who returned to Portugal in 1990 after his broadening wine studies in Australia. No other Port house can claim 6 generations.
David explains the evolution of a bottle of vintage port as follows: "At 2 years it is bottled and you are completely committed to the style and the vintage. The first 10 years it is fruity, rich full bodied – a perfect young ruby port. From 10-20 years a transformation takes place whereby it loses the young berry fruit and bottle age maturity commences – sort of like a teenager who sometimes shows well but at other times doesn't. From 20-40 years the vintage port develops bottle maturity and is great for drinking but still shows a lot of fruit and vitality. Over 40 years not every one makes this stage but where there is big fruit and big tannins it can go on even longer." To celebrate their 200 year anniversary we tasted 5 decades with 1970 browning rim, raisins, caramel, spice; 1985 deep red, chocolate coffee buckets of ripe elegant fruit; 1994 produced by David's father the legendary Bruce has youthful dense blackcurrants & fine tannins; 2000 purple concentrated tannic plums; and 2011 black inky opulent pure blackberries and licorice.
David feels that the end of the Portuguese spirit monopoly in 1991 has improved the product with cleaner finer results. Their neutral grape spirit for Fonseca, Taylor, and Croft now comes mainly from Spain at 3 euros per litre (compared to some others at 1.5 euros) which allows the fruit to show more luscious texture when young, more effective as a teenager and better integrated when old. Even though they still use foot treading of the grapes they take pride in being "the New World of the Old World" with their innovative ongoing changes. Nature rules with emphasis on viticulture, sustainable agriculture, bringing back abandoned grape varieties, understanding the importance of tannins for long aging, and the art of blending. Congrats to this cherished Port house!
---
You might also like:

Loading ...