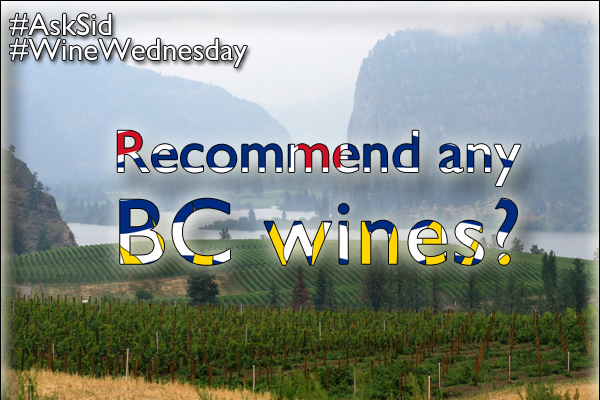 Question: I have tried some of those sweet Ice Wines from Canada but now am hearing encouraging things from wine friends about the much improved unique dry table wines from the Okanagan Valley in British Columbia. Any helpful information or recommendations for me?
Answer: Yes there is an explosion of new wineries with the last count being 232 grape wine wineries licensed in British Columbia and rapidly growing. Presently the most grown grape varieties are merlot for red and pinot gris for white. However, syrah, pinot noir, cab franc, gamay, and red blends all show great potential as do old vine riesling (planted 1978), chenin blanc (1968), sparkling, and Rhone grape blends for whites. The best is still yet to come. Follow all developments at www.winebc.com
For recommendations here are the top 12 BC wines recently chosen by the 2014 Lieutenant Governor's Awards For Excellence judges (myself included) out of 436 wines submitted from 119 wineries:
8TH GENERATION RIESLING 2012
These 27 year old vines in their Estate Okanagan Falls Vineyard show a complex clearly defined riesling variety with just the right balance between the lively acidity and the attractive residual sweetness. Delicious!
BONAMICI MERLOT CABERNET FRANC 2012
Very charred toasty French oak barrels used for this distinctive wine from a good vintage makes a ripe softer big fruit easy to enjoy statement
FORT BERENS RIESLING 2012
Dutch owners Rolf & Heleen have a "hankering" for their unique Lillooet peachy lime terroir which delivers stylish petrol aromas and attractive layers of flavour
HESTER CREEK MERLOT BLOCK 2 RESERVE 2011
Choice grapes from Golden Mile show juicy rich plums open aromas and palate with lovely drinking accessibilty now but no rush to drink up as will age well.
HOWLING BLUFF SAUVIGNON BLANC/SEMILLON 2013
Outstanding white Bordeaux blend by my old friend winemaker Luke Smith specializing in pinot noir yet here displaying so well fresh tomato plants aromas of sauvigonon blanc with lanolin weight of semillon.
KRAZE LEGZ CHARDONNAY SKAHA VINEYARD 2013
Stylish round apple and cinnamon notes are fresh and subtle expressing the pure expression of the chardonnay grape itself without any oak interference.
LAUGHING STOCK PORTFOLIO 2011
David & Cynthia Enns celebrate a 10th vintage from a cooler but successful year for their red Bordeaux blend of the 5 grapes in French oak for 19 months showing deep concentrated smooth structured fruit.
OKANAGAN CRUSH PAD HAYWIRE PINOT NOIR CANYONVIEW 2011
Pure lighter cherry fruit shows elegance from clever seasoning by the passionate winemaking team using 3 year old French oak barrels and custom made egg shaped concrete tanks.
PENTAGE SYRAH RESERVE 2010
Paul & Julie's special lot of ripe spicy peppery syrah jumps from the glass with these inviting aromas and entices the palate with soft smooth flavours of this successful Okanagan variety.
QUAILS' GATE CHARDONNAY STEWART FAMILY RESERVE 2012
A leading winery in the Okanagan celebrating 25 years by the Stewart family with some emphasis on pinot noir but they always produce truly outstanding chardonnay too. Full rich oaky expression but still fresh and inviting matching well with so many full flavoured food dishes.
RUBY BLUES VIOGNIER 2013
Prudence & Beat yet again show their skills in producing this fragrant lively subtle apricot notes wine with excellent balance all at an attractive lower alcohol level.
WAYNE GRETZKY OKANAGAN THE GREAT RED 2011
Rather charming juicy easy fruit/oak balance using a unique blend of syrah, malbec, and petit verdot with a mix of French and American wood by talented winemaker Stephanie so well trained by Howard Soon.


Loading ...