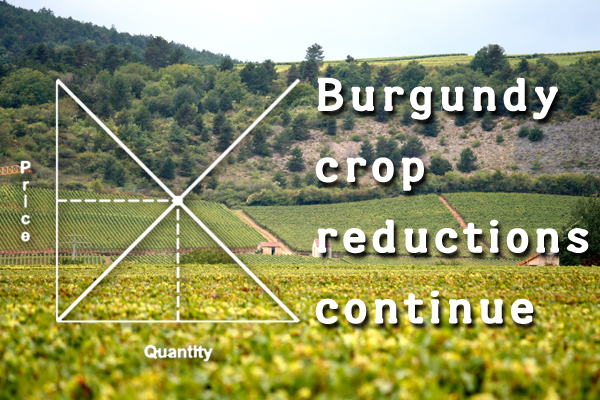 By Megan Mallen (Flickr: Burgundy, France) [CC BY 2.0], via Wikimedia Commons
In our May 27 Blog featuring Burgundy we informed you that there were encouraging hopes for a quality harvest of much larger volume for the 2014 vintage. Unfortunately these hopes were quickly dashed for many producers by the devastating widespread hail storm that happened on June 28. You can read some extensive details on this by Antonio Galloni in his update posted at www.vinousmedia.com/articles/an-update-from-burgundy-jul-2014.  These hail storms seem to have become almost a pattern particularly the last 3 years but they raise real economic issues for the viability to continue farming for many growers. Frost can also be another concern on quantity – look at the affect on reduced Grand Cru Chablis with their 2012 Spring frosts. Shorter Burgundy crops were predicted already for 2010-2013 inclusive. It is alarming now to learn about a 5th consecutive year of less wine production projected for 2014. Availability and especially price increases are a real ongoing concern for the Burgundy consumer. I strongly recommend you buy some now!
What to buy? 2012 Chablis is a smart choice. They have full chardonnay fruit but with classic vibrant acidity. Older oak may turn out to have been a wise choice to use for this particular vintage. As an example seek out top value Christian Moreau Grand Cru Les Clos & 1er Cru Vaillon old vines in their Cuvee Guy Moreau. Meursault volumes continue to fall and prices are already increasing. Pick up some Jadot Genevrieres or Bouchard Pere Perrieres – both now using Diam cork closures -from any vintage but especially the 2010 I admire. Any 2009 or 2010 red Burgundy you see may still be at old pricing and worth buying. Look for underrated vineyards like La Dominode the best vineyard in Savigny-Les-Beaune from Pavelot that give outstanding value for the quality you receive in the bottle. Their 2009 is already so delicious and 2010 the only SLB on the wine list at Ma Cuisine in Beaune on my last visit in May at 53 Euros was firm balanced pure minerals structured to age. On a stricter wine budget the 2012 red Cote Chalonnaise are looking so encouraging – especially some of the Mercurey vineyards from Faiveley. Search out some of your own treasures to enjoy sometime for a blue moon!

Loading ...