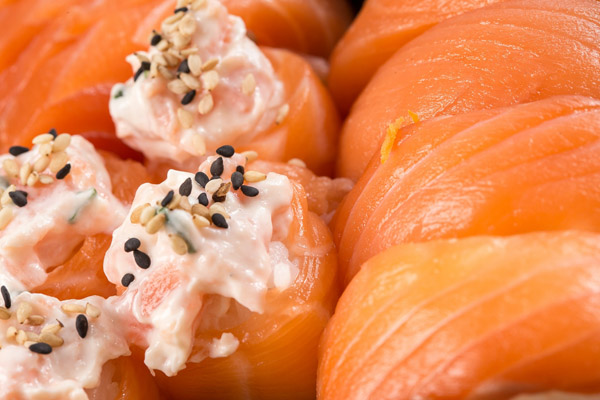 Sushi is becoming increasingly popular in Vancouver and almost everywhere else.
A big new 210 seat Miku Restaurant (www.mikurestaurant.com) opened here last week with wrap around patios outside, a magnificent Coal Harbour view and Japanese artist hand painted seafood murals. Owned by Aburi Restaurants Canada this joins their sister restaurant Minami here in Yaletown both featuring seafood. They are bringing an innovative new concept to the Canadian scene with Aburi (sear flamed with a blowtorch) sushi as well as more vegetarian and gluten-free choices. The act of applying fire directly to enhance the natural fish flavours was developed in Japan about a century ago. They are creating their own sauces using non traditional Japanese ingredients (usually soy and wasabi) trying to complement the unique taste of each fish. Some examples include Aburi Hamachi (yellowtail) with avocado sauce, Aburi Hotate (scallop) with cod roe mayo, and Aburi Salmon Oshi Sushi fused with jalapeno. For non fish lovers there is even thin Aburi Chicken cooked on a very hot plate over an open fire grill.
A media friend Mijune Pak has just written up a 3 part feature on Sushi: 1.Rolls (Maki) vs. Nigiri-Zushi (Nigiri); 2.The use of Condiments; and 3.How to Eat it. For those wanting more information on sushi I suggest you read these at www.followmefoodie.com or www.wevancouver.com under their Food & Drink tab.
Join in with your own thoughts on sushi or sashimi and whether you prefer traditional, Aburi style, both or neither.