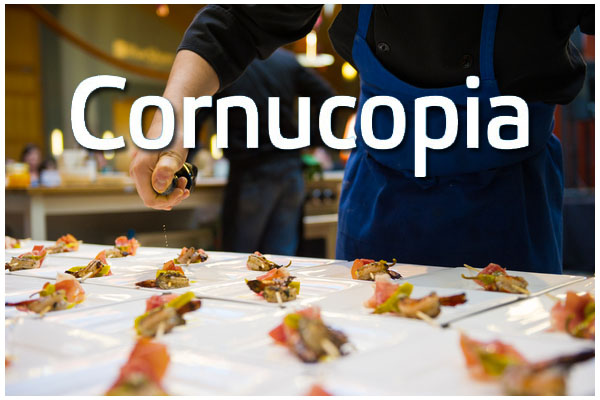 Photo Credit: WhistlerCornucopia.com
With the largest vertical drop for skiing in North America and their successful 2010 Olympic exposure Whistler Blackcomb is already world famous. Lots happening there now year round with lots of activities including trail walks, biking, hiking, mountain climbing, golf, fishing, and even more adventurous bear viewing, zip lining & bungee jumping. A great vacation destination for everyone. Also getting more attention is their annual Cornucopia celebration of food & drink the first 2 weeks of November (in 2015 from the 5th to the 15th) with details at www.whistlercornucopia.com.
Presently participating in all the fun and some of my brief highlights so far include:
Araxi Restaurant (www.toptable.ca) legendary "Big Guns" dinner organized by Neil Henderson and prepared by Chef James Walt and his talented brigade with excellent wine pairings by wine director Samantha Rahn. A typical memorable course with super matching wines: Shaved Italian Truffles + White Grace Cheese Ravioli (white & black truffles over Saltspring Island cheese pasta herb and truffle fonduto) elegant Castiglion del Bosco Brunello di Montalcino 2010 & concentrated Barone Ricasoli "Castello di Brolio" Chianti Classico Gran Selezione 2010. Watch for their exciting tapas new cellar Bar Oso opening soon. Great items such as local octopus + potato + chorizo Iberico!
BC VQA Wine Education Level 1 Seminar: A great discussion and tasting by DJ Kearney on the history (from first plantings at the Oblate Mission in Kelowna by Father Charles Pandosy in 1859 to the present expansion of over 200 wineries), the unique style of the wines, the regions, and the major grape varieties. See more at www.WineBC.org.
Black Hills Estate Winery (www.blackhillswinery.com) Nota Bene Library Vertical Tasting back to their first vintage in 1999 (all Estate grapes planted in 1996) to the impressive balanced 18th leaf 2013 vintage (Blend 49%CS, 40Merlot, 11CF with 13.7 alcohol the lowest yet for 3200 cases) with lunch in the cellar of www.bearfootbistro.com including wild pine mushroom soup porcini streusel and braised short rib. Price is $52.90 per bottle but a few special double magnums of 2013 still available for $318.80
WOW Wines seminar where we profiled many of the top wines at Cornucopia from bubbles of Ruinart Blanc de Blancs & 2007 Blue Mountain Reserve Brut RD to big cabs Signorello Estate 2012 "Padrone" (91%CS + 9CF $175 winery price) that just received a super updated Parker score of "fabulous" 97+ with "Drink it over the next 30 years".
Crush Grand Tasting with many wineries to try from Painted Rock (www.paintedrock.ca) 2013 Red Icon to Rocca delle Macie (www.roccadellemacie.com) 2009 Roccato Toscana IDT.
Conducted with winemaker Gustav Allander a vertical Foxtrot tasting (www.foxtrotwine.com) of 10 pinot noir wines including from Henricsson Vineyard (formerly Erickson) described in Burgundian terms as a lighter "Clos des Lamprays" and the Foxtrot Vineyard (own-rooted Dijon Clone 115 planted 1994-1995) as a bigger "Clos de la Roche". These wines indeed are sensational terroir-driven, structured, so balanced and stand up to this bold comparison.
Are 60 BC owned and operated craft breweries and brewpubs across BC represented by BC Craft Brewers Guild in grand tastings, Night Markets, Cocktail Master Mixology Classes, Culinary Stage Series featuring local and national chefs, Workshops, Lunches & Dinners, Parties, and so much more! Have you attended? Think about it for a possible November 2016 destination.
---
You might also like:

Loading ...