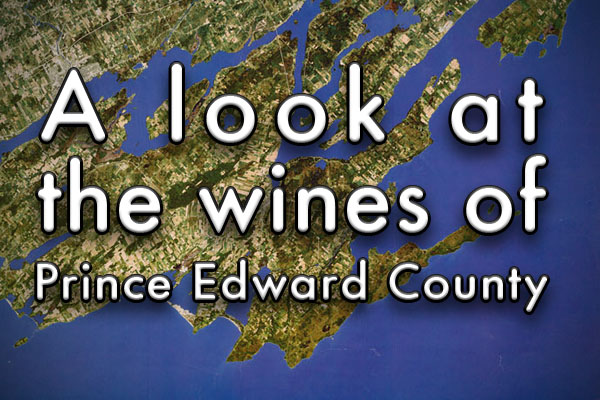 Photo Credit: Library and Archives Canada

By Joseph Temple
Mention Ontario's burgeoning wine industry and many people will think of Niagara—a region that is world renown for its award-winning ice wines. But only two and a half hours east of Toronto is another designated viticultural area that's just waiting to be discovered by oenophiles across the world. Situated on a picturesque peninsula, Prince Edward County, an appellation known for its distinct minerally wines is also Canada's fastest growing wine region with nearly 800 acres of vitis vinifera vines planted across its scenic shorelines.
With a host of B&B's, artisan studios and local antique shops, the county's unique character is undeniable. First settled by United Empire Loyalists (UEL's) who fled to Canada after the American Revolution, remnants of its British heritage can still be seen in the architecture of its homes and public buildings—making PEC the Canadian equivalent of colonial Williamsburg. And by the start of the twentieth century, it was estimated that an entire third of all canned fruits and vegetables produced in Canada came from Prince Edward, according to historian John Schreiner. Of course, in addition to all this rich history is a wine industry that really took off in the mid-1990s.
Early start-ups in 1996 and 1997 have slowly evolved into thirty-three wineries by 2011. A key selling point during those early years was the price of land, which was considerably lower than what it cost in Niagara. Attracting a group of eager and spirited winemakers, many of them would compare themselves to those who arrived in California during the 1960s to build their empires from the ground up. The only difference is that PEC requires you to pioneer through some brutal winters. "Most winters can get near -30 degrees Celsius for at least a few hours every season. Good winter survival strategies and field practices are a must," writes one county vintner.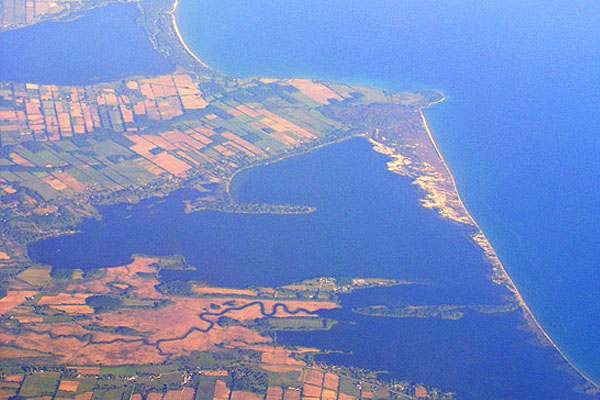 Aerial View of Prince Edward County
By Plismo (Own work) [CC BY-SA 3.0], via Wikimedia Commons
Despite being five degrees cooler on average than the Niagara Region, Prince Edward County has a growing season that is just as long. One reason for this is a 'lake effect' that comes from both Lake Ontario and the Bay of Quinte, which moderates the harsh winters synonymous with the eastern part of the province. Another great advantage that PEC has is the direction its plantings face: south and east, the same exposure that European vineyards enjoy.
These comparisons to the old-world don't stop there either. With limestone soils that yield impressive Chardonnay and Pinot Noir grapes, many vintners in PEC like to compare their vintages to some of Burgundy's best. "I persist in believing that Pinot Noir … is probably the variety most suited to Prince Edward County," says visionary winemaker Geoff Heinricks. "There just isn't enough good Pinot Noir on earth … If we can get it right (and we've been dealt a pretty decent hand), then there is a market, a very lucrative, passionate market."
Sources:
Aspler, Tony & Leslie, Barbara. Canadian Wine for Dummies. Mississauga: John Wiley & Sons Canada, Ltd., 2000.
Cattell, Hudson. Wines of Eastern North America: From Prohibition to the Present—A History and Desk Reference. New York: Cornell University Press, 2013.
Gatehouse, Jonathan. (2003, May 12). Cover: Prince Edward County, Ont: Life's a beach, with history. Maclean's, 28, Retrieved from http://elibrary.bigchalk.com.
Gordon, Jim. Opus Vino. New York: Penguin Press, 2010.
Harding, Julia. The Oxford Companion to Wine. Oxford: Oxford University Press, 2015.
Schriener, John. The Wines of Canada. London: Octopus Publishing, 2005.
(2003, July 01). Official guide to the wineries of Ontario. Toronto Life, (7), Insert, Retrieved from http://elibrary.bigchalk.com.

---
You might also like:

Loading ...