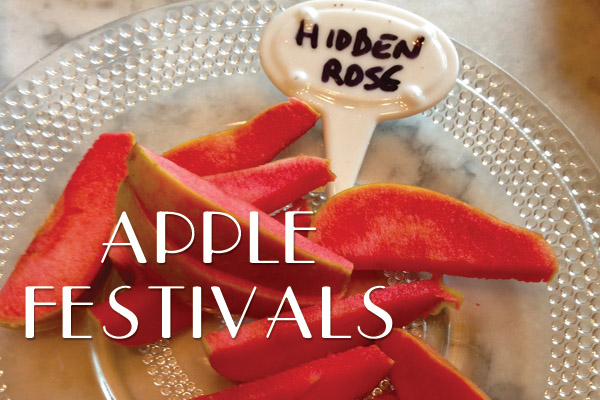 The 2015 successful grape harvest in many of the world's wine districts is encouraging for a stellar vintage. The warmer sunny weather has also been good for ripening of other fruits and vegetables as well. Apples have been picked earlier this year to retain crispness but still with a lovely sweet ripeness. The cooler Fall days Apple Festivals have been in full swing. The 16th annual Salt Spring Island Apple Festival (saltspringapplefestival.org) with over 350 organically grown diverse varieties was held on Sunday October 4. They have a marvellous informative glossy poster with some 60+ named hand painted apples on it. I remember the Summerland Red Mac being a recent People's Choice Award winner. Some amazing names like Burgundy, Mother of New York State, Wealthy, and Millionaire form #1 & #2. The popular University of British Columbia Botanical Garden Apple Festival (botanicalgarden.ubc.ca) with 50,000+ lbs of 70+ varieties were sold to the thousands attending on October 17-18. Many years ago we used to line-up early to get the limited supply of Cox's Orange Pippin available but now there are also Twenty Ounce Pippin, Lemon Pippins, Newton Pippin and more. The local BC hybrid with the fabulous name of "Ambrosia" is always a favourite eaten freshly picked off the tree and the heritage ones of "Bramley's Seedling" & "Grimes Golden". They also show limited amounts of quince and pears.
We just did an apple tasting (without cider) of 13 different lesser known purchased varieties. Our top 3 were the pale green Shizuka with lively firm flavours; the thin skinned refreshingly crisp Mutsu (better than Granny Smith); and our top rated conical Hidden Rose with that green-yellow-white dot skin but the magical aptly named hidden rose juicy sweet secret interior as shown in the photo above.
Lots to learn about apples other than the commercially available often waxed varieties you find in your neighbourhood store. Are you aware of the new non-browning trait of Golden & Granny varieties produced by Arctic Apples (arcticapples.com)? Check out my recommended new book published September 2014 – Apples of Uncommon Character: Heirlooms, Modern Classics, and Little-Known Wonders by Rowan Jacobsen. I must confess that I still love a fresh Gala. What apple variety do you prefer? Is there a local Apple Festival near you?
---
You might also like:

Loading ...