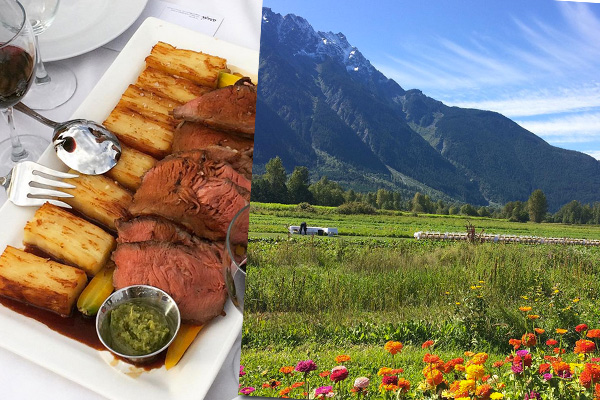 Imagine the ultimate relaxing meal served outdoors with clean air in an idyllic setting in a flowery meadow under a high azure blue sunny sky at a classy very long table. This is the reality at the annual Araxi Longtable held this year in Vancouver on August 3 and in Pemberton outside Whistler on September 5. This ambitious dining series by Araxi (@araxirestaurant) Executive Chef James Walt, Director Neil Henderson, Sommelier Samantha Rahn (@samantharahnGC) and their whole brigade is so compelling and so well orchestrated. The ultimate Slow Food experience. Striking scene last weekend at North Arm Farm (@northarmfarm) with a record 272 guests seated at one very long table. Some had travelled from Miami, Chicago and New York for this specific event. The excellent menu features local ingredients harvested at the peak of the season in a true farm-to-table scenario. This 60 acre Sturdy family working organic farm grows amazing seasonal mixed vegetables and fruits. Jordan Sturdy gave us an informative insightful tour of the farm. Great story about how the black bears used to enjoy the open smorgasbord especially of corn and pumpkins until he spent $20,000 on a special fence around the property to keep them out.
The amazing menu:
Reception Canapes: Foie Gras Gougeres with Fresh Okanagan Peaches; Chilled Prawns with Sundried Tomato Sauce;  and English Pea & Duck Egg Pasta Ravioli. Le Vieux Pin Vaila Rose 2014 or Pemberton Distillery Gin Cocktail.
Seared BC Albacore Tuna, Grilled Corn Salsa & Local Apple Gel, Braised Salsify & Shiso Leaf; LaStella Vivace Pinot Grigio 2014.
Dungeness Crab Stuffed Squash Blossoms, Fresh Crab Blended with Salt Spring Island Cheese, Baby Multi-coloured Tomatoes & Burrata; Le Vieux Pin "Ava" 2013. My "wine of the day" is so outstanding! Combines 50% Viognier, 41% Rousanne, and 9% Marsanne so effectively. Shows some of that Northern Rhone richness and texture but it is brought in at only 12.9 alcohol so is very vibrant & refreshing as well. A real winner and a superb wine matching for this most delicious course!
Pemberton Meadows to Cache Creek Organic Beef, Aged Sirloin with Red Wine & Herb Braised Cheeks, Pressed Potatoes, with Yellow Carrots; LaStella Fortissimo 2013: Bordeaux styling blend with 16% Sangiovese, and Le Vieux Pin Cuvee Violette Syrah 2013: Peppery with only 2.84 Tons/acre co-fermented with a couple percent Rousanne and aged 14 months in aged French oak (none new). This must have been some sort of record for dry aged beef on the bone totalling 62 days and just trimmed for cooking the day before. In any event so sweet tender and flavourful. What a treasured recipe!
North Arm Farm Berries, Chocolate Coated Strawberry Ice Cream Bars, Sweet Lemon Tart with Raspberries; Quails' Gate Botrytis Optima 2014. Also assorted handmade Petit Fours including fruit jellies by Pastry Chef Aaron Heath.
Highly recommend the quality and breathtaking experience of this memorable dining event and encourage everyone to put it on their bucket list!
---
You might also like:

Loading ...