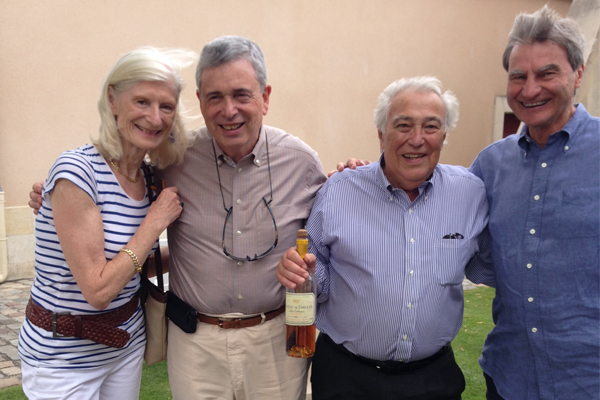 (L-R) Serena Sutcliffe, Ambassador Ron Weiser, Jean-Michel Cazes, Sid Cross.
Attended this month a memorable celebration lunch in Bordeaux at Chateau Lynch Bages hosted by respected collector Ambassador Ron Weiser. Actually there were really 2 Ambassadors present as legend Jean-Michel Cazes not only has established his property for producing outstanding wine with quality for value far above the 5th growth status given in 1855 but has been an Ambassador for all Bordeaux wines. Following in the footsteps of first Henri Martin of Chateau Gloria and joined in by Bruno Prats of Cos d'Estournel, May de Lencquesaing of Pichon Lalande, and others Jean-Michel travelled to North America on so many occasions tirelessly not only spreading the word on his properties but spotlighting the high quality of everyone else's claret. Enjoyed reminiscing with him about this important mission of his including 2 historic tastings held in 1986 of 52 different Bordeaux properties from 1961 in Miami on February 1 and 26 more from 1945 in LA on February 14 at which only he, myself and Michael Broadbent were in attendance for both events. More details are set out in my IWFS Monograph An Appreciation Of The Age Of Wine. Lynch Bages as expected showed so well in both those outstanding vintages. Now at age 80 JMC continues his valuable involvement and the property for the 2015 vintage will start a first "Winegrid" technology for their special white wine using a micro-computer in the barrel monitoring all the stats including colour, temperature, alcohol levels etc. Like combining the respect for history but the innovative use of progressive ideas as well.
At the lunch 3 of their more recent celebrated vintages were served:
2000: Bold concentrated still very backward even at 15 years of age. Can clearly see the wonderful potential of this wine for fantastic complexity with further aging.
1990: Less structured than expected. Softer more forwardly fruit shows herbal notes with charm but already on a plateau of enjoyment but still no rush.
1982: Sensational. JMC says " shows that some collectors may have consumed this vintage too early". Now making a brilliant complex round seductive statement. So delicious. Often find almost a touch of mint showing with this property but these 3 vintages didn't display that element on this occasion.
As noted in the headlined photo with Serena Sutcliffe of Sotheby's who also was in attendance with this scribe, Ambassador Weiser and Jean Michel who is holding a celebratory bottle of 1988 Chateau de Fargues Sauternes. This was a memorable favourite ideal wine pairing of all of us showing the maturing golden colour, complex but not now too sugary sweet with the refreshing acidity served with the food course of a block of cold duck foie gras.
Congratulations to Jean- Michel Cazes and to Chateau Lynch Bages for all you have done for Bordeaux wines and for what you continue to do for us Bordeaux wine lovers!
---
You might also like:

Loading ...