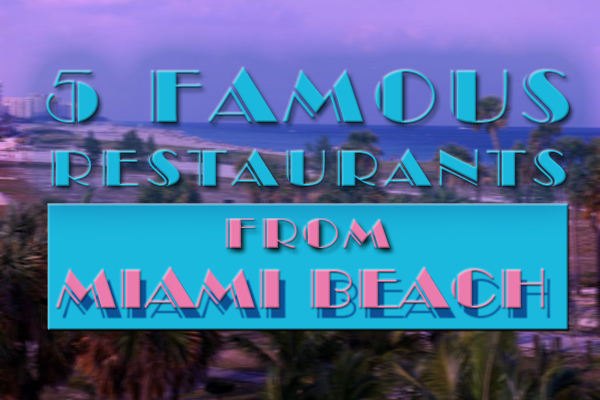 By Joseph Temple
From dreary swampland to America's Riviera, the city of Miami Beach has gone through an extraordinary transformation over the past century.  Known for its pastel colors and Art Deco style architecture, the urban decay that once plagued its streets is now a distant memory.  Today, tourists from around the world flock to Miami Beach to soak up some sun while enjoying all that this exciting and culturally diverse city has to offer.
Of course, in addition to the white sands and historic buildings, there is no denying the important role that cuisine plays.  Whether it's food trucks or fine dining, there's no shortage of great places to eat as you stroll through South Beach and beyond!  It is a proud gastronomic heritage dating back to the early twentieth century when frigid Northerners eagerly bought up real estate along the shore.  So take a trip down memory lane as we look at five iconic restaurants that put Miami Beach on the map.
Special thanks to FloridaMemory.com for providing most of the photos for this entry.
---
With a Jewish community deeply embedded into the cultural fabric of Miami, it's easy to forget that at one time anti-Semitism was on full display as numerous businesses along the beach posted signs reading NO JEWS ALLOWED.  So when New Yorkers Joe and Jennie Weiss opened a restaurant on the edge of town, many residents predicted that it wouldn't last a single year.  Fast-forward to 2015 and Joe's Stone Crabs—now a Miami Beach institution—has been in operation for almost 100 years!  A favorite hotspot amongst celebrities, author Mandy Baca writes, "No trip to Miami is complete without a visit to this iconic restaurant, even if it is just for a slice of key lime pie … Like Delmonico's and Peter Luger's in New York, Joe's is a cult classic known the world over and popular with anyone that enjoys stone crabs, fried chicken or keeping up with Joneses."
blank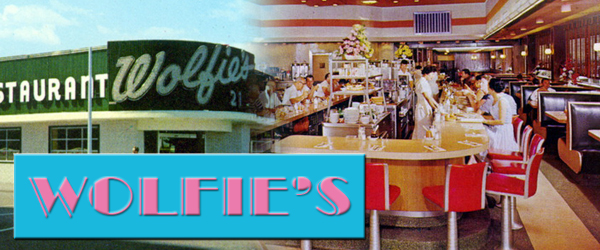 "Find me a Jewish person in Miami Beach who didn't go to Wolfie's" declared one Miami resident.  "Go ahead–just try."  A staple amongst the Borscht Belt, this deli-style restaurant became famous for its large portions that made customers go home both stuffed and satisfied.  And if you were a fan of the hit television show Miami Vice, you'll remember Sonny and Rico cruising past its 21st street location many times throughout the series. Operated by Wilfred Cohen who also owned Wolfie Cohen's Rascal House delicatessen on 172nd street, the iconic name was the result of a contest asking residents to create one for the restaurant.  When a University of Miami student came up with Wolfie's, it was such a hit with the owner that he later had his own name legally changed to Wolfie Cohen.
blank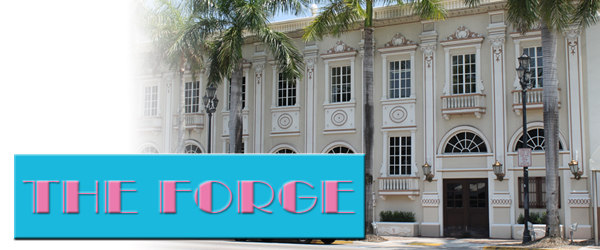 Back in the 1980s, if you ever wanted to see a cocaine cowboy or a real-life Tony Montana up close, then you had to dine at The Forge Restaurant and Wine Bar.  Originally built during the twenties, it re-opened in 1969 after an extensive renovation that included the installation of a 300,000 bottle wine cellar.  Having an interior that one critic described as a "bordello meets Louis XVI," the expensive decor attracted everyone from A-list celebrities to associates of Pablo Escobar.  One former maitre d' recalls a story told in Gerald Posner's book Miami Babylon: "One Latin guy walks up and says, 'We are seventeen and we don't have a reservation' … The man took out a wad of cash and peeled off seventeen hundred-dollar bills. "That's just to seat us.  We'll spend ten times that inside."
blank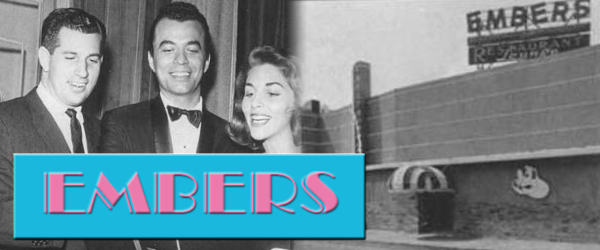 During the 1950s when middle-class Americans could suddenly afford to travel by plane while the invention of air conditioning shielded tourists from the unrelenting heat of South Florida, Embers was definitely the place to dine.  Situated at Collins Avenue and 22nd Street, this restaurant became known for its sizzling steaks, which were cooked over an open pit.  Adding to the friendly ambiance was a maitre d' named Mario who would personally welcome you as you walked through the front door.  Sadly, the original location burned to the ground in 1984.  Attempting to recapture the magic, a copycat restaurant was erected on the same lot in the 1990s. Unfortunately, tastes had evolved in the city since the heyday of Embers and the reincarnation proved to be bust.
blank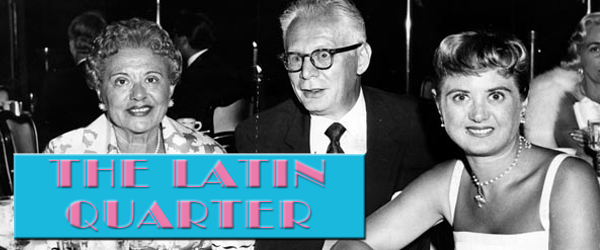 Palm Island, located between Miami Beach and the mainland is where an extravagant and posh nightclub called the Latin Quarter entertained the city's elite for more than twenty years.  Owned and operated by Lou Walters, the father of legendary journalist Barbara Walters, the club was a magnet for attracting celebrities that included Dean Martin and Frank Sinatra.  The 20/20 reporter would later credit her time at the Latin Quarter hobnobbing with the rich and famous as an essential part of her education, learning not to be intimidated later in life by the same type of people she would go on to interview.
blank
Sources:
Baca, Mandy.  Discovering Vintage Miami: A Guide to the City's Timeless Shops, Hotels, Restaurants & More.  Lanham: Rowman & Littlefield, 2014.
Baca, Mandy. The Sizzling History of Miami Cuisine: Cortaditos, Stone Crabs and Empanadas. Charleston: The History Press, 2013.
Biondi, Joann. Miami Beach Memories: A Nostalgic Chronicle of Days Gone by. Guilford: The Globe Pequot Press, 2007.
Bramson, Seth. Miami Beach. Charleston: Arcadia Publishing, 2005.
Brown, Joseph. (2004, May 16). The Latin Quarter Nightclub. South Beach Magazine.  Retrieved from http://southbeachmagazine.com
Posner, Gerald. Miami Babylon: Crime, Wealth, and Power—A Dispatch from the Beach. New York: Simon & Schuster, 2009.
Staubach, James. The Magic City Captured by Miami Vice, Scarface, Movies, and Burn Notice a guide to 80s Locations and Culture. Raleigh: Lulu.com, 2014.
---
You might also like:

Loading ...