While most presidents get the keys to 1600 Pennsylvania Avenue after winning an election, others are thrust into this top spot due to extraordinary circumstances.  One such occurrence happened when President William McKinley was assassinated in Buffalo, New York. With this horrific event, Vice-President Theodore Roosevelt, the "Hero of San Juan Hill" instantly became America's new commander-in-chief.  "That damned cowboy" as one Republican senator infamously called him was heading back to Washington DC and upon his return, the country's most prominent residence was about to change drastically.  That's because TR, the legendary Rough Rider would not only remake the presidency—he would also remake the house that enhanced its power.
Vowing to bring an "Oyster Bay atmosphere" to this nineteenth century home, many alterations would be made during TR's time in office, including the building's name, which was known prior to 1901 as the "Executive Mansion." Inspired by the paint color used to cover up the damage done by British soldiers during the War of 1812, Roosevelt re-christened it "The White House," signaling the start of a new American century.  For the next seven and a half years, numerous additions from the West Wing to a tennis court were built at a feverish pace.  But arguably the most important renovation occurred where the first family ate, drank and entertained others.
Jackie Kennedy's 1962 White House Tour Documentary.  At 21:08,
she discusses the Roosevelt renovation of the State Dining Room.
After noticing that the State Dining Room could only fit around sixty visitors, TR's wife Edith demanded that something be done about the lack of space.  To accommodate all the guests expected to dine with the Roosevelt's, the room had to be expanded to house over 100 occupants, a task that required removing both its northern wall and a neighboring staircase.  Unfortunately, the wall held up a sizable portion of the house's west side and over time, its elimination along with numerous instances of architectural malpractice had essentially turned 1600 Pennsylvania Avenue into a giant piece of Swiss cheese.  The situation was so dire that by 1948, a massive three-year reconstruction began to repair a building whose foundation was on the verge of collapse.
During Roosevelt's time, the greatest worry wasn't support beams or wall studs but big furry rodents who had complete rule of the mansion.  Since the late 19th century, rat infestation inside the White House had been an ongoing nuisance.  According to historian Deborah Davis, "when they were hungry, they were fearless. If the cook turned her back on a chicken or a roast she was preparing for the President's dinner, a wily team of rats raced out and dragged it away."  And it wasn't exclusive to the kitchen either.   Throughout his presidency, TR and his sons had to frequently get up from the dining room table in order to chase off the rats that were trying to steal their food.  It was a problem that despite the many efforts to combat it, continued to plague the house right up until the Truman administration.
Looking at what TR ate during this time, one can definitely see the influence of Martha Roosevelt, his socialite mother born south of the Mason-Dixon line.  According to the diary of military aide Archibald Butt, the president's secret recipe for fried chicken was sure to make your mouth water:
"I forgot to mention the fact that the fried chicken was covered with white gravy, and oh, so good!  The President said that his mother had always said it was the only way to serve fried chicken; that it gave the gravy time to soak into the meat, and that if the gravy was served separately he never took it."
In addition to this memorable dish, White House Chef Annie O'Rourke was famous for preparing another classic Southern combo of hominy mixed with gravy, which could sometimes be seen on TR's plate for breakfast, lunch and dinner.  Topping that off were sweet potatoes, fiddlehead ferns and wild lettuce all picked from the gardens at Roosevelt's home in Sagamore Hill—an entire century before the whole farm-to-table movement!
Photo of the White House Kitchen, circa 1901-1908. Courtesy: Library of Congress. (Click to enlarge both)
Washing down all this delicious Southern fare, the president often ordered his favorite drink– a Mint Julep ala Roosevelt.  Using fresh mint grown on the White House grounds, TR added rye whiskey instead of bourbon and topped it off with a splash of brandy, making it the perfect libation after a grueling game of tennis in the hot sun.  When not court-side however, the president usually abstained from cocktails, confining himself to a glass of white wine.
Writing back in 1878 that wine "makes me awfully fighty,"  Roosevelt usually drank in moderation.  But that didn't stop him from letting others think that alcohol had let his guard down.  Always having a bottle of wine and sherry at the table whenever his guests arrived for dinner, the president had a valet pour his glass to the top with crushed ice and only a small amount of actual wine.  While others thought he was keeping up, in reality, TR was probably the most sober person at the table.  Serving as a de facto truth serum, wine became such a powerful tool that Roosevelt had a cellar installed on his presidential yacht, the USS Mayflower.  This decision probably came in handy when he negotiated a peace treaty between Japan and Russia in 1905 on board the vessel, which earned him the Nobel Peace Prize.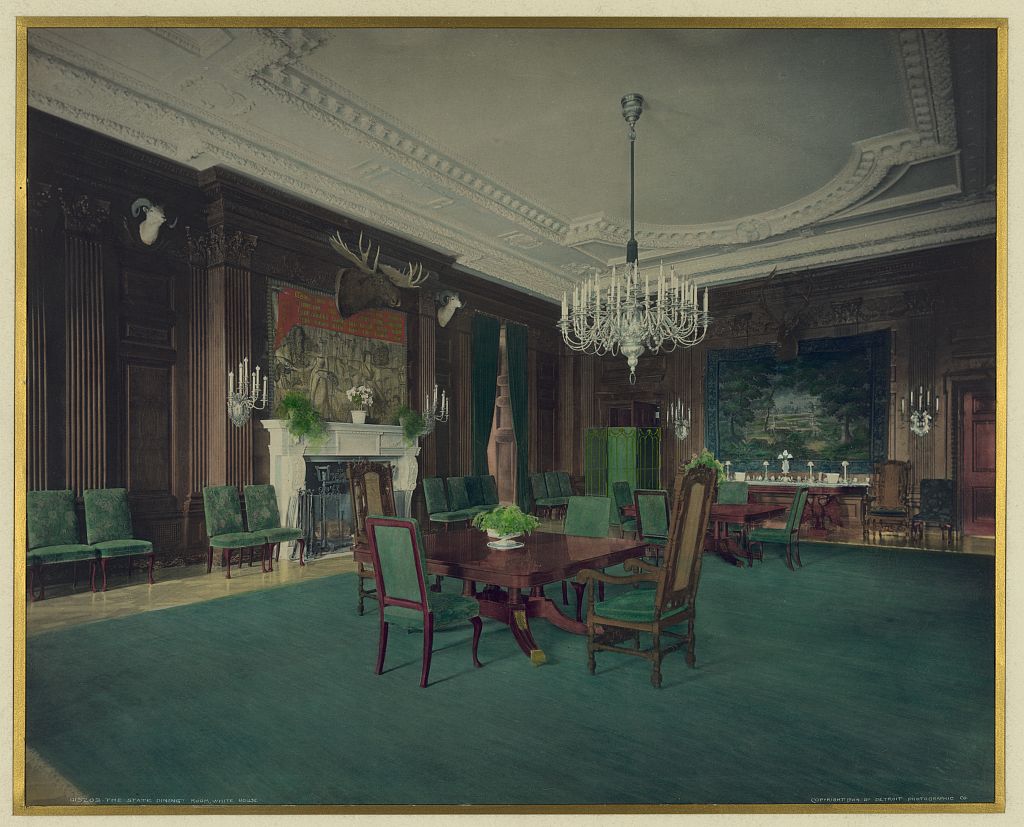 State Dining Room during the administration of Theodore Roosevelt. Courtesy: Library of Congress.
Back at the White House, the newly renovated State Dining Room had essentially become an extension of Roosevelt's personality.  Reflecting the president's deep passion for big game hunting, biographer Edmund Morris writes, "a disgruntled-looking moose, and some dozen other North American game mammals, stared glassily out from the walls, bracing for years of presidential monologues."  It was here, surrounded by oak paneling and mahogany furnishing, where some of the most historic moments in American history occurred, including the night Booker T. Washington became the first African-American to dine at the White House when he had dinner with Roosevelt early in his administration.
As the power of the United States grew substantially during TR's time in office, so did the mansion that came to symbolize the country's growing strength.  A house originally built on a swamp was emerging as the epicenter of pomp and circumstance, designed to impress each and every visitor who stepped inside its walls from the chandeliers that hanged on the walls to the food served on their plates.  And ushering in this new era was Theodore Roosevelt who transformed 1600 Pennsylvania Avenue into something much more than a home, but also as a hospitable venue to wine and dine the world's most powerful leaders while letting them know that America had finally arrived on the world scene.
Sources:
Davis, Deborah. Guest of Honor: Booker T. Washington, Theodore Roosevelt, and the White House Dinner That Shocked a Nation. New York: Atria Books, 2012.
Leech, Margaret. In the Days of McKinley. New York: Harper & Brothers, 1959.
Klara, Robert. The Hidden White House: Harry Truman and the Reconstruction of America's Most Famous Residence. New York: St. Martin's Press, 2013.
Morris, Edmund. Theodore Rex. New York: Modern Library, 2002.
Morris, Edmund. tThe Rise of Theodore Roosevelt. New York: Modern Library, 2001.
Will-Weber, Mark. Mint Juleps with Teddy Roosevelt: The Complete History of Presidential Drinking. Washington DC: Regnery History, 2014.
---
You might also like:

Loading ...