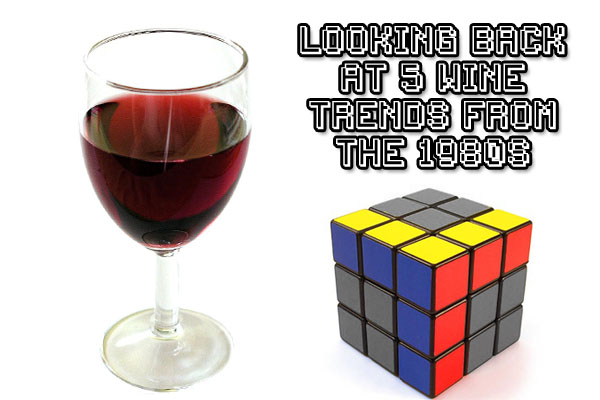 By User:Matema (edit dari file: rubix_cube.jpg) [CC BY-SA 3.0], via Wikimedia Commons
By Joseph Temple
With a growing demand for 80s nostalgia, more and more people are happily reliving a decade that gave us Reaganomics, Alex P. Keaton and legwarmers!   Back when women teased their hair, men rolled up the sleeves of their sport coats and an unconditional war had been declared on fatty foods, the 1980s have become retro-chic with many fads from that era now getting their second wind in 2015.  Of course, while there are some things we like to look back at with rose-colored glasses, there are other 80s trends that have been buried deep in our minds in hopes that they'll never see the light of day again.  And in the world of wine, there were no exceptions.  So relax and travel back in time (in a DeLorean hopefully!) as we explore five popular wine trends from the 1980s—some good, some bad, but all of them truly memorable!
---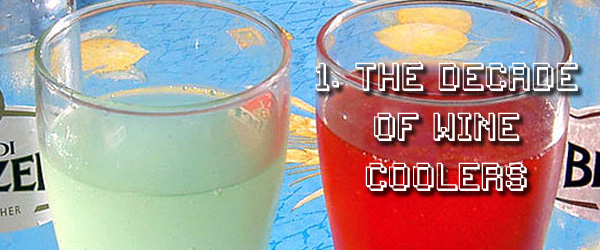 While oenophiles today cringe at the wine cooler phenomenon of the 1980s, there was no denying its massive popularity during that time. Mixing cheap wine with a variety of artificial fruit flavors, this carbonated and low-alcohol (usually 6-7%) spritzer conquered the market with some unforgettable advertising campaigns. Remember the two old men known as Bartles and Jaymes or a young, pre-Die Hard Bruce Willis letting us know that "this is where the fun starts"? The result was that by 1987, over 50 million cases were sold across the United States, representing a staggering 22 percent of all American wine consumption.
Unfortunately for the industry, by 1991, the party was over.  When the U.S. government quintupled the excise tax on wine that year, most manufacturers switched over to blending malt-based alcohol, reducing the wine cooler market to less than 0.1 percent by 2006.
---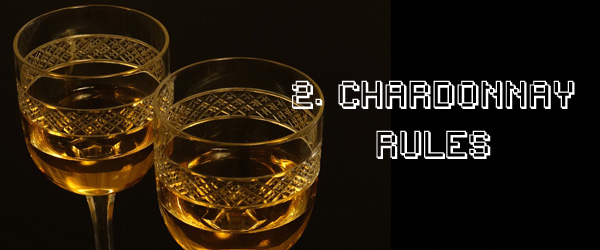 If you were a child of the 80s, you might remember Chardonnay as the wine your yuppie parents ordered at a fancy restaurant.  That's because as California exploded onto the national scene, Chardonnay—the state's largest varietal—also became its signature grape.  Following the Judgment of Paris in 1976, a surge of interest in Golden State wines swept the nation.  And in looking to differentiate themselves from the region's mass-produced wines, experienced chardonnay growers came up with a brilliant marketing strategy.  Instead of generic categories, their wines would be labeled by varietal, which quickly became the industry standard.  All of a sudden, if you wanted to be in-vogue, you asked the waiter for "a glass of Chardonnay" instead of "a glass of white wine."
However, unlike the Chardonnays of today, the 1980s were all about vintages with heavy vanilla and butter-like flavors that dominated one's palate.  So as tastes gravitated towards reds and lighter whites in the 1990s, New World oaked-Chardonnays that were all the rage a decade before had quickly become a cliché.  Additionally, with growers planting Chardonnay grapes like they were going out of style, a backlash known as A.B.C. (anything but Chardonnay) gained traction, as other white wines demanded their time to shine as the 80s came to a close.
---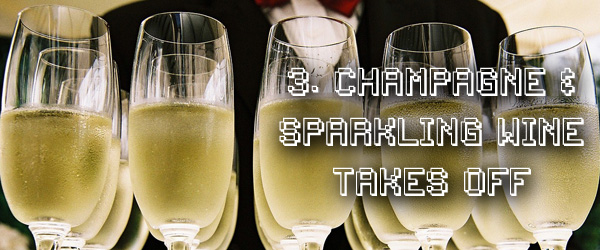 Prior to 1980, Champagne and sparkling wine was something most people drank only on special occasions.  But with the emergence of yuppie culture, this bubbly libation took off as both an apéritif and as a status symbol for social climbers looking to show off their new found wealth.  "Our research shows that the show-off aspect is an important part of champagne drinking," said one brand manager for Piper-Heidsieck.  By 1987, the sparkling wine market in the U.S. had more than doubled with Champagne exports increasing more than 50 percent from 1983 to 1986.  "Were it not for the sensational development in coolers, champagne/sparkling would have been the brightest spot on the wine scene" according to Jobson's Wine Marketing Handbook 1986.
Matching this increase in demand was a consistent supply throughout the region of Champagne.  Roughly only five out of every ten years was the weather good enough to make a vintage bottle.  But from 1981-1990, many houses were able to produce a vintage every year with the exception of 1984 and 1987—something unheard of at the time.  Sadly, Mother Nature proved no match for the man-made disaster that erupted in October of 1987 when the stock market crashed.  With this economic tidal wave, the market for luxurious sparkling wines and Champagnes leveled off, signaling an end to the era of indulgence.
---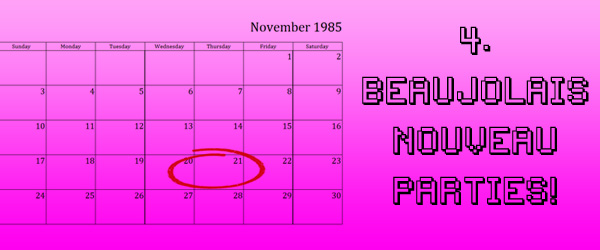 Back in the 80s, do you remember what you did every third Thursday of November?  If your answer was attending a lavish Beaujolais Nouveau party, then you definitely were on the cutting edge of the most popular wine fad of the decade!
Made from 100% Gamay grapes, Beaujolais Nouveau was unique in that the entire process from picking the grapes to selling it in the stores was completed in only a matter of weeks.  To promote this accomplishment, wineries organized elaborate parties on the third Thursday in November to celebrate the launch of their new vintage.  During its heyday, no expense was spared with live elephants and hot air balloons being brought in as oenophiles from across the world sampled this light and fruity wine for the first time.  Making sure the bottles arrived at exactly one minute past midnight in all the major cities, many had to be flown in on the Concorde supersonic jet to meet the deadline.  From there, restaurants and wine shops battled to be the first ones to offer their customers the newest Beaujolais, making it one of the most successful marketing campaigns of the 1980s.
Unfortunately, many Beaujolais Nouveau wines didn't live up to the hype and by the end of the decade, the entire spectacle had pretty much fizzled out.  The resulting backlash in the 1990s against not only nouveau but the entire region of Beaujolais has led to some difficult times.  However, a recent article in the Wine Spectator suggests that a renaissance may be on the horizon.
---
With sweeping tax cuts and double digit inflation finally under control, America's top earners saw their disposable income skyrocket throughout the 1980s.  And during this new Gilded Age when jeans were out and tuxedos were in, wine became more than just a drink–it also became a collectible.  During the massive bull market that followed the 81/82 recession, wine investment suddenly became the cool, hip thing to do for yuppies wanting to demonstrate their affluence.  Serving as a catalyst was 1982's Bordeaux that a critic named Robert Parker writing for The Wine Advocate described as legendary, causing its value to go through the roof.  Having 100-point scales and a host of new wine publications, collectors could now make well informed decisions on what to buy, a trend that has continued to this day.
---
Sources:
Brostrom, Geralyn and Brostrom, Jack. Business of Wine, The: An Encyclopedia. Westport: Greenwood Press, 2009.
Ensrud, Barbara (1990, Jan 4). Looking Back At Wine Of The '80s. New York Daily News. Retrieved from http://articles.orlandosentinel.com
Ewing-Mulligan, Mary and McCarthy, Ed. Wine for Dummies Fourth Edition. Hoboken: Wiley Publishing Inc., 2006.
Fiedler, Jennifer. The Essential Bar Book: An A-to-Z Guide to Spirits, Cocktails, and Wine, with 115 Recipes for the World's Great Drinks. New York: Ten Speed Press, 2014.
Gwynn, Mary. Back In Time For Dinner: From Spam to Sushi: How We've Changed the Way We Eat. New York: Random House, 2015.
Kanner, Bernice. "Brut Force." New York Magazine 19 Jan. 1987: 9-10. Print.
Napjus, Alison. "Beaujolais on the Rebound." Wine Spectator. 31 May 2015: 85-87. Print.
Prial, Frank J. (1995, Aug 30). Wine Talk. New York Times. Retrieved from http://www.nytimes.com
Wasser, Chad (2012, June 2). What Happened to Wine Coolers of the 1980s? Wine Folly. Retrieved from http://www.winefolly.com
Zraly, Kevin. Windows on the World Complete Wine Course 2007 Edition. New York: Sterling Publishing, 2006.
---
You might also like:

Loading ...