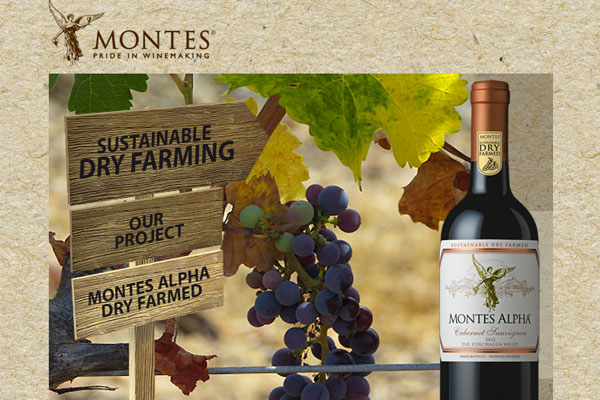 Montes are celebrating 25 years and beyond of pride in winemaking in Chile. In 2004 the legendary Aurelio Montes with his partner Douglas Murray built a state of the art winery in Apalta for their top quality wines. Now his son Aurelio Jr. after oenology studies and practical experiences in Australia (Rosemount), Napa (Franciscan) and elsewhere is "making wine to sit down and enjoy life with it." At his recent wine seminar in Vancouver the rich full bodied round plummy generous 1999 Montes Alpha Cabernet Sauvignon shone brightly in a short vertical (all with 10% merlot) against the 2001 (drier more tannic from a rainy year), 2006 (warmer than 2001 but an average year showing typical herbal Chilean characteristics), and 2010 (special year of the earthquakes just before harvest). Also showed their popular 2011 Folly (syrah) at 15.2 & 2012 Purple Angel (ripe carmenere with 8% petit verdot "nerves"). My favourite was their great Bordeaux blend the intense 2011 Alpha "M" (80CS, 10CF, 5M, 5PV) 18 months in new French oak but so focused as a wine of Chilean terroir with classy equilibrium. The elegant "Angel" label "M" recommendation for food pairing is "game – ostrich best or lamb with blueberries". Their first one produced in 1996 as an ultra-premium icon pioneer is alive and still aging well. An easy 20 year cellar candidate.
What was enlightening to me was the difference between their estate bottles of the regular and their "sustainable dry farmed" noted on the label of both Montes Alpha cabernet sauvignon and their carmenere all from Colchagua Valley fruit. Vines that are irrigated "lose energy" to the foliage while non-irrigated ones show "better grip energy & concentration with purer flavours".  Dry farming is resulting in earlier correct ripeness of balanced acidity and tannins with complex minerality. The berry size is only .7 grams vs. 1.1 grams and the yields are only 6 Tons/hectare rather than 10. I was impressed that the skin to pulp ratio increases to 37% compared to only 12% by not irrigating. Montes are setting a good example to other wineries in Chile with this research. Check out the amazing results for yourself!
---
You might also like:

Loading ...